Reliance Industries Ltd (RIL) probably needs to worry as much about other income as it does about earnings from its core refining, petrochemical and exploration & production businesses.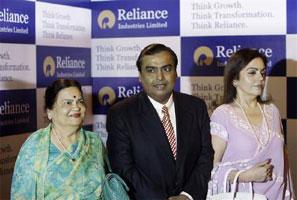 For the first nine months of this financial year, RIL's other income stood at Rs 6,900 crore, about a quarter of its profit before interest, depreciation and tax (PBIDT) of Rs 29,446 crore (Rs 294.46 billion). The other income, which primarily came from treasury operations, was also 19 per cent higher than in the year-ago period.
This shows the importance of other income for cash-rich RIL, which had Rs 45,503 crore (Rs 455.03 billion) in cash and bank balance, along with Rs 36,335 crore (Rs 363.35 billion) in current investments, in 2012-13, the highest among Indian companies.

Naturally, this keeps V Srikanth, joint chief financial officer (CFO) at RIL, on his toes at his 10th floor office at Tulsiani Chambers in Mumbai's Nariman Point. In mid-2010, Srikanth moved to RIL as deputy CFO from Citi India, where he was country treasurer.
In 2012, he was promoted to the post of joint CFO; his responsibilities included managing the company's voluminous fund-raising plan and generating the highest yield possible from treasury operations.

An analysis of the top five private sector (non-banking and non-finance) companies, in terms of their investment and cash & bank balance, shows RIL's treasury generated the highest yield of 9.42 per cent in 2012-13.
Software exporter Infosys stood second, generating a yield of nine per cent on cash & bank balance of Rs 21,211 crore (Rs 212.11 billion) and investments of Rs 1,244 crore (Rs 12.44 billion). The yield was calculated on interest income, profit on sale of investments and dividend income, at an average investment and cash & bank balance for the two preceding financial years. The numbers are for the consolidated accounts of these companies.

The success of RIL's treasury lies in managing its portfolio by actively buying and selling securities to capture market moves and book gains on these sales, before shifting to securities in other tenures.

"It is important to note you can actively manage only a certain percentage of the portfolio, given the market liquidity conditions. Therefore, the impact on return of such active management on large-sized portfolios will be moderated," says a personal familiar with the company's treasury operations. "Given the size of the investment portfolio, other income is very important and they (the company) pay a lot of attention to that," he said.

While RIL maintains more than half in cash & bank balance, it ensures the overall investment portfolio gives the best returns by actively managing its portfolio duration.
According to the company's last annual report, while it exited Rs 15,720 crore (Rs 157.2 billion) of investments in certificates of deposits with scheduled banks, its investment in mutual funds increased to Rs 13,186 crore (Rs 131.86 billion) from Rs 1,021 crore (Rs 10.21 billion) a year earlier. In 2012-13, its investment in fixed-maturity plans rose to Rs 6,493 crore (Rs 64.93 billion) from Rs 4036 crore (Rs 40.36 billion) in 2011-12.

"The company watches its overall investment return very carefully and focuses on duration and market timing to maximise its overall returns, without compromising on the safety and liquidity of the overall portfolio," said the person quoted earlier.

While Srikanth's team can give entities that have treasury operations at their core (such as banks) a run for their money, investors aren't pleased with RIL sitting on a huge amount of cash, bank balances and investments. This is because it has reduced the company's return on capital (RoC) to 12.01 in 2012-13 from 15.14 per cent five years ago.
RoC is the key element to determine a company's ability to deliver better returns on its capital, through its businesses. RIL's inability to deploy the cash for better returns has cost it the coveted position of the most valued company in the country.