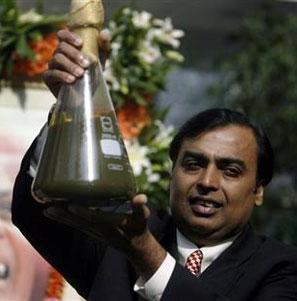 Mukesh Ambani-promoted Reliance Industries is in talks with four or five export credit agencies to raise over $1 billion (Rs 6,220 crore) in the next four months.

This is a part of the company's plan to raise $13 billion debt to fund expansion of its petrochemical production capacity and gasification project for its refining facilities to improve margins.

In the past two years the company has already tied up over $10 billion of foreign currency financing for this purpose.

While about half of this is ECA backed financing backed by six ECAs, rest is from syndicated loans and foreign currency bonds.

After tying up all its ECA facilities with another 4-5 ECA's for an additional amount of $1 billion, RIL will have the largest number of ECA relationships globally.

"When we put together our plans for petro chemical and refining expansion we consciously decided that we should diversify our sources of of financing for this volume of financing and that we could not afford to be dependent on any one source of financing," says V Srikanth, joint chief financial officer at Reliance Industries.

This would be difficult as banks would have constraint on extending their credit limit to a single corporate.

So, there was a need for looking at diversification in terms of financing
sources, markets the company was raising money from, the type of investors it wanted and the kind of financial products that would match its project needs.
Then the company realised that ECAs, the financial institution in different countries that provide trade financing to domestic companies are now different from what they were five years ago.
RIL needs global suppliers and with the backing of ECAs in the US, South Korea, France and the UK, it was able to raise funds about 100 basis points cheaper than the syndicated loans.
The bonds are 50 basis points, or even more, costlier than syndicated loans.
With higher proportion of ECA-backed loans, the company has been able to keep its cost of debt in dollar terms below five per cent. The company also has strong balance sheet liquidity and low leverage.
It is rate BBB+ by Standard & Poor's, which is two notches above the Indian sovereign.
This also puts it in strong position to negotiate better cost from ECAs.
"Every source has got cost framework, but each has framework that gives some other advantages; you cannot compare it purely on cost," says Srikanth.
GENERATING FUNDS
In the past two years, RIL has tied up over $10 billion of foreign currency financing for this purpose
ECA-backed loans provide the facility to avail the fund in three years' period and then repay in the next 10 years