The government is not convinced of the geological reasons cited by Reliance Industries Ltd to justify the declining output from the KG D6 gas field.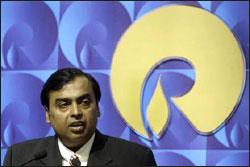 KG D6, operated by RIL is the country's biggest gas field. Against a projected output of 80 million standard cubic metres a day by now, the field is producing 26 mscmd.
Speaking to reporters in New Delhi, petroleum minister Jaipal Reddy said, "The RIL consortium has told us they will not be able to produce as much as they had projected due to geological complexities. The ministry (and DGH) is not convinced. This is being examined".
Canadian company Niko Resources has a 10 per cent stake in the D6 block in the Krishna Godavari basin, while Reliance and BP, the operators, have 60 per cent and 30 per cent, respectively.
In response to a question on whether the consortium might have to shut the fields in 2015-16, petroleum secretary GC Chaturvedi said, "That is a fear". RIL has for long been seeking a three-fold increase in the price for KG D6 gas from the current $4.2 per million British thermal unit to reflect the international gas price. The price of $4.2 has been fixed for a five year period ending March 2014.
According to RIL's announcement for the first quarter ended June 30, the KG-D6 field produced 33.1% less gas in the quarter over the previous period. "The reduction in production was due to reservoir complexity and natural decline," it said.
RIL says significant efforts towards augmenting production from KG D6 have been undertaken during the first quarter. RIL is planning to submit Revised Field Development Plan (RFDP) for D1-D3 which is aimed at maximizing gas recovery from the existing fields.
It also plans to further pursue approval of RFDP of D 26 (MA) submitted in the earlier quarter. Further, to expedite the development projects of other discoveries, RIL is preparing development plan(s) based on an integrated concept which is planned for submission in third quarter of FY13.
Chaturvedi said RIL wants to explore satellite fields to increase production and certain clarifications are being sought from them.
In 2006, RIL had proposed to drill a total of 31 wells capable of producing 80 mscmd of gas by 2012. However, the company has so far drilled only 22 wells on the fields.
Out of these only 18 have so far been put on production while the last four drilled in 2011 have not been connected to the production system as they contain uneconomical reserves.