Global oil giant BP Plc and its partner Reliance Industries promised to invest $8-10 billion in producing more gas, but voiced concerns over a double penalty being sought to be imposed on them for KG-D6 fields output not matching targets.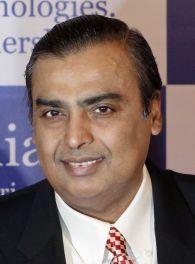 BP Chief Executive Bob Dudley and Reliance Industries Chairman Mukesh Ambani first met Oil Minister M Veerappa Moily and then followed it up with a meeting with Finance Minister P Chidambaram.

Dudley, on his fourth visit to India this year, also had a meeting planned with Prime Minister Manmohan Singh.

The meetings come at a time when the Oil Ministry at the insistence of the Finance Ministry is seeking to deny RIL-BP a gas price revision for producing less than projected gas from their eastern offshore KG-D6 fields.

This punishment is on top of $1.8 billion penalty that is already being imposed on them for the same reason. Also, the Directorate General of Hydrocarbons (DGH) is seeking to strip them off 8 gas discoveries holding 1.15 trillion cubic feet of reserves worth $14 billion.

While Moily said issues surrounding KG-D6 were discussed in the meeting that lasted more than one hour, Dudley said BP was "committed to working with the Government of India in their quest for energy security".

"I think we are working very hard to develop further gas reserves in India," Dudley said after meeting Chidambaram.

Dudley and Ambani, who were accompanied by BP India head Sashi Mukundan and RIL Executive Director P M S Prasad, explained how it was not possible to hoard gas and that the penalties that are being sought to be imposed were in violation of the signed contract.

Dudley, whose firm in 2011 invested $7.2 billion in India, is believed to have told Moily that no investment will come in oil and gas hunt if signed contracts are not honoured.

He asked why his company was being penalised without a fair trial. His contention was that it has not been proved that RIL-BP deliberately produced less than targets so how can they be penalised.

Ambani, on the other hand, said if the government is citing the production sharing contract (PSC) to say that no international expert can be appointed to verify reasons for fall in KG-D6 output, then how was one-man reservoir expert P Gopalkrishnan appointed by DGH and on whose recommendations RIL and BP were being penalised.

Moily said the Cabinet Committee on Economic Affairs (CCEA) will decide on the issue of not applying the new gas price of $8.4 per mmBtu into force from April 1, 2014 to the currently producing D1&D3 gas fields in KG-D6 block till such time that it is either proved that the fall in output to one-sixth was not deliberate or that the shortfall in production during last three years is made up.

"There is only one
issue that is pending. We have resolved all other concerns of theirs," Moily said, adding inputs from the Finance Ministry and the Planning Commission have been received on the issue, based on which a final note for Cabinet will be moved next week.
He said RIL-BP plans to invest $8-10 billion in bringing to production satellite fields around currently producing D1&D3 fields in KG-D6 block by 2016-17.
"We are here to honour the production sharing contract (PSC). No rule will be flouted by the ministry or anybody. We will ensure no rule is flouted by anyone," he said, adding the signed contract will be followed in letter and spirit.
RIL and BP say the PSC does not provide for any fixed output targets and projections made in investment plans are only indications and not firm commitment.
They blame geological complexities like sudden fall in pressure accompanied by sand and water ingress in wells for the production from D1&D3 fields in KG-D6 dropping to 10 million standard cubic meters per day instead of rising to 80 mmscmd.
The Directorate General of Hydrocarbons (DGH), on the other hand, blames the fall in production to RIL-BP not drilling the committed number of wells.
Also, DGH wants RIL-BP to give up 1,130 sq km of area of KG-D6 fields over and above 5,367 sq km area they had offered to relinquish as per contractual requirements. This area contains eight discoveries.
BP holds 30 per cent interest in seven oil and gas blocks operated by RIL.
"This is my fourth visit to India this year and as always I am very pleased to be here. Today, I have met senior leaders in the Government of India at New Delhi and discussed opportunities and challenges in the Indian energy sector at large and also specific to our deep water exploration and development projects. We are committed to working together with the Government of India in their quest for energy security," Dudley said.
Dudley and Ambani will tomorrow attend the third convocation of PanditDeendayalPetroleumUniversity at Gandhinagar where Gujarat Chief Minister Narendra Modi is the chief guest.
Ambani, who is the chairman of the Board of Governors of the University, has invited Dudley to the Convocation.
Dudley's visit in February 2013 happened against the backdrop of a dispute with CAG over audit of spendings in RIL-BP's flagging KG-D6 gas block.
In April, he met Prime Minister Manmohan Singh seeking market prices for natural gas as current sub-market rates were not drawing big investments.
The government agreed to a revision in gas prices from April next year, but BP and its partner RIL may not be a beneficiary.
The Oil Ministry, at being coaxed by finance ministry, is moving Cabinet to deny RIL-BP the benefit of a new gas price that may be double of current $4.2 per mmBtu rate, until they make up for the shortfall during the last three years.