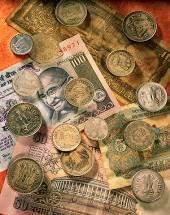 Retail inflation moved up for the fifth consecutive month to 10.91 per cent in February -- remaining in the double-digit terrain for third month in a row -- on account of higher prices of vegetables, edible oil, cereals and protein-based items.

It was 10.79 per cent in January.

The inflation crossed doubled digit mark in December at 10.56 per cent, against 9.90 per cent in November.

The vegetables basket in February recorded the highest inflation of 21.29 per cent among all the constituents that make the Consumer Price Index, according to data released on Tuesday.

That was followed by cereals wherein inflation was 17.04 per cent.

Egg, meat and fish became costlier by 15.72 per cent during the month.

Inflation in oils and fats segment stood at 14.56 per cent.

Besides, pulses became dearer by 12.39 per cent and sugar turned more expensive by 12.10 per cent on an annual basis.

Clothing and footwear witnessed 10.87
per cent increase in prices during the month.
In urban areas, retail inflation rose to 10.84 per cent in February from 10.73 per cent in the previous month.
The CPI for rural population increased to 11.01 per cent during the month from 10.88 per cent in January.
The data for wholesale price index-based inflation is expected on Thursday.
The WPI figures for January stood at 6.62 per cent, much higher than RBI's comfort level of 5-6 per cent.
The Reserve Bank RBI is scheduled to announce mid-quarter review of monetary policy next week. It is widely expected that the central bank will further ease the policy to boost economic growth which touched a decade low of 4.5 per cent in the third quarter of the current fiscal.
In its monetary policy last month, RBI had slashed the key interest rates by 0.25 per cent and released Rs 18,000 crore (Rs 180 billion) additional liquidity into the system to perk up growth through reduced cost of borrowing.
RBI has forecast the March-end WPI inflation to be 6.8 per cent.