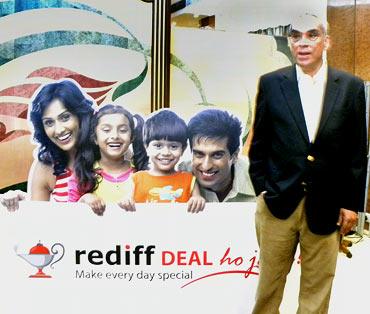 NASDAQ-listed Rediff.com India Limited on Tuesday launched new service, group deals, named Rediff Deal Ho Jaye!
The service, essentially, offers consumers local services in about 40 cities across India at discounts that range from 30 per cent to 60 per cent on any deals that they avail of.
Among others "Rediff Deal Ho Jaye! will help consumers discover new services and experiences in their city, such as restaurants, spas, hotels, healthcare, tattoos, hobby classes, adventure sports and other local attractions across 70 categories and at 30-60 per cent discounts, thus helping them make the most of their quality time with their family and friends," Ajit Balakrishnan, Chairman and CEO of Rediff.com told reporters during a press conference called to announce the launch of the service.
With more than 15 million unique users per month, this new service will offer advertisers reach consumers in about 40 cities, Balakrishnan added.
He said that poor broadband penetration would not be an obstacle in the success of this service because the service is also available on WAP-enabled mobile phones and customers can avail of the facility to get information on daily deals on their mobiles.
How the deal works
Customers buying a deal will have to make an advance part-payment to Rediff.Deal Ho Jaye! and the rest of the deal amount to the merchant. On paying the advance amount, customers will get a coupon either in their mailbox or a coupon code on their mobile which will have to be shown to the merchant and make the remaining payment.
For those who want to make offline payments, cash-on-delivery facility is also available, Balakrishnan said.
Every deal, however, comes with a time limit during which a particular service has to be availed. Customers can also cancel the deal before the validity expires or can call the customer service in case of any issues.
Photograph: Rediff.com Chairman and CEO Mr Ajit Balakrishnan during the launch of Rediff Deal Ho jaye!