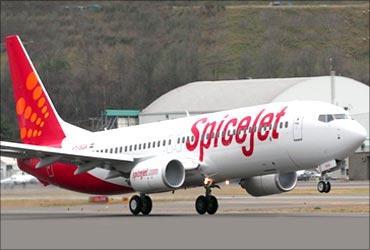 SpiceJet has posted a loss of Rs 559 crore (Rs 5.59 billion) in the second quarter of this financial year, three and a half times the loss in the same quarter of 2012-13.
The record loss comes after a positive first quarter, when the airline posted a net profit of Rs 50 crore (Rs 500 million).
SpiceJet raised fares in September. The full impact of the fare rise would be visible in the third quarter.
The Centre for Asia Pacific Aviation had estimated that domestic airlines would post record combined losses of $500 million in the second quarter.
Jet Airways had a loss of Rs 998 crore (Rs 9.98 billion) in the quarter, in line with CAPA's estimate. It estimated SpiceJet would lose Rs 430-490 crore ($70-80 million); broking firms had estimated a much lower loss of around Rs 100 crore (Rs 1 billion).
"Airlines continue to face the dual challenge of a hostile cost environment and soft yields," the Capa report said.
SpiceJet said the result was impacted due to increase in maintenance expenses and rise in aviation turbine fuel prices.
Engine maintenance expenses resulted in an extra expense of Rs 78 crore (Rs 780 million) and the fuel price was two per cent more than in the same period last year.

The rupee's depreciation also impacted the bottom line. The airline said despite its hedging measures, the depreciation impact was Rs 42 crore (Rs 420 million).
SpiceJet said passenger yield also declined due to the weak pricing environment. It fell seven per cent. Revenue growth was marginal, at six per cent over Q2 of last year
"While these initiatives add to the pressures on margins due to the start-up costs involved, the contribution from overseas operations will help in reducing costs through better utilisation of fleet and leveraging SpiceJet's strong presence in tier-I and II towns,'' the airline said.
Kapil Kaul of CAPA said: "SpiceJet has declared losses higher than our expectations. CAPA continues to be very concerned about SpiceJet and except a very and strong committed promoter, the airline has lost its relevance. It needs a serious one-time capital infusion, which is increasingly difficult. Promoter funding is inevitable but funds must come in real soon. Then management needs to be further and significantly strengthened and that is critical. Near-term risks for the airline have increased significantly."