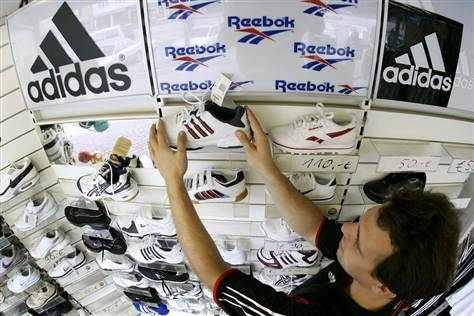 Embarking on a fresh start after last year's alleged Rs 870 crore fraud in its Indian arm, sportswear major Reebok is undertaking a new retail concept and marketing campaign to chart out a new growth story.
Besides using its brand ambassador and Indian cricket captain M S Dhoni, the firm intends to use well known personalities from different walks of life such as musicians, entertainers and professionals in its campaigns to enhance its brand equity in India.
"After what happened last year here in India, we did a research study and found that customers felt it was more of a business related issue and the brand equity of Reebok is still the strongest. We are going to build on this foundation," Reebok Chief Marketing Officer Matt O'Toole told PTI.
Going forward, the company will focus on introducing new products, marketing initiatives and a new retail concept to grow business.
"In the next three years, India is going to be one of our highest growth markets... We will be bringing in a whole new retail concept of making our stores feel like a gym as we focus on fitness," O'Toole said.
The company will train its sales people about nutrition and where to work out in order to assist customers, he said, adding that the model is already being followed in markets such as the US.
"Our target is that in 2013, 50 of our stores in India, mainly in the metros, will follow this concept. Over a period of time we want all the Reebok stores (around 500 at present) to adopt this," O'Toole said.
Commenting on the new marketing initiatives, he said the company will soon launch a campaign 'Live With Fire' featuring Dhoni.
"Besides, we will also have other well known people such as musicians and entertainers to tell their fitness story. We will be using them in a staggered manner over a period this year," he said, without disclosing the personalities that the company was planning to rope in.
Reebok India that had filed an FIR alleging fraud by its former M D Subhinder Singh Prem and COO Vishnu Bhagat, which both of them have denied.
Last year, the company had announced plans to reduce store count by one-third from 900 outlets operated by 600 partners as it planned a "fresh start" in India in 2013.