Borrowers who were hoping for lower interest rates on their home or car loans might be in for some disappointment.
With the Reserve Bank of India (RBI) keeping key interest rates unchanged in its review, it is unlikely that banks will lower their lending rates anytime soon.
However, for depositors, this is an opportunity to lock into the current deposit rates for as long as they can, because banks could start cutting these. The first to do so was Oriental Bank of Commerce, which reduced rates on fixed deposits (FDs) of select maturities by 25 to 50 basis points (bps).
"The reduction of statutory liquidity ratio by five bps will release Rs 1,000 crore for us. Since credit demand is sluggish, we have decided to lower the rates," said S L Bansal, chairman and managing director (CMD) of OBC.
Bankers said deposit rates will start coming down before the lending rates did. "While deposit rates will apply immediately to the deposits that come for re-pricing, there has to be a lead time to adjust the lending rates," said C V R Rajendran, the CMD of Andhra Bank.
On FDs of up to three years, most banks are offering 9-9.5 per cent.
On the lending rate front, home loan rates are 10-11.5 per cent, depending on the loan size and tenure. Car loan rates are 11-15 per cent.
Borrowers should adopt a wait and watch approach, says Adhil Shetty, chief executive officer, Bankbazaar.com, a website that offers different banks' loan products.
"Though a straightforward rate cut is unlikely for the next quarter or so, RBI is taking long-term measures for improving the credit market. When rate cuts do happen eventually, all these factors will come into play and are likely to initiate a new cycle in interest rates," he said.
The central bank's concern continues to be the high inflation, which despite seeing some easing is not near its comfort level of not more than six per cent.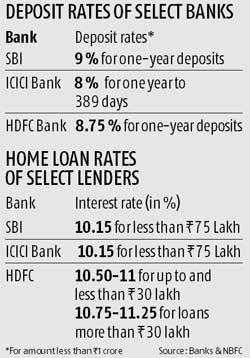 However, Rahul Soota, executive director, Moneymantra, a competitor of Bankbazaar.com, said it did not make sense for retail borrowers to wait for loan rates to fall.
"Nowadays, most banks offer variable rate loans, which are linked to base rates. As inflation eases and interest rates fall, banks will reduce base rates, which in turn will lead to a decline in lending rates," he says.
Since home loans are of longer tenure, borrowers should look at property price and affordability before they consider the interest rates.