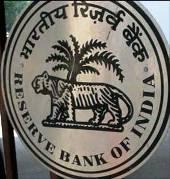 Even as the rupee has been volatile in the last one month, RBI Deputy Governor H R Khan on Monday said, "RBI will intervene in the foreign exchange market only in case of extreme volatility."

On Monday, the rupee rebounded from a two-month low, closing at 55.07 a dollar, 0.2 per cent higher than Friday's close of 55.18 a day.

Though exporters sold dollars, the gains were capped due to demand from oil marketing companies.

The rupee opened at 54.90 a dollar on Monday and rose to 54.98, before slipping below the 55 mark.

Though it was under pressure, it rebounded subsequently. Late in the morning, it rose 12p to 55.04 a dollar on fresh sales of dollars by banks and capital inflows into the equity market. Bankers said RBI stayed away from the foreign exchange market.

In the last one week, the rupee came under pressure after it was reported the trade deficit in October had risen to a record $21 billion and this might force the government to increase the import duty of gold, analysts said.

Subir Gokarn, another RBI deputy governor, on Monday said, "Our approach has been the rupee's exchange rate should be market-determined
and RBI should intervene only to manage excessive volatility for ensuring orderly conditions, without targeting any particular level or band for the Indian rupee."
He added RBI was aware any sharp movement of a unidirectional nature had a tendency to fuel further expectations of depreciation.
"Therefore, the intervention policy not only aims at quelling excessive volatility, but also attempts to moderate speculative expectations of a one-way downward movement of Indian rupee," he said.
After adopting a hands-off approach for nine months, RBI had started intervening in the foreign exchange market from September 2011, after the rupee fell due to the sovereign debt crisis in the Euro zone.
In the April-September period, RBI sold about $2 billion (net) in the spot market.
A treasury executive of an associate bank of the State Bank of India said the likelihood of an easy money policy in the US during the second term of US President Barack Obama was high.
"This would put pressure on the US currency….That would drive capital into India, strengthening the rupee against the dollar," he said.