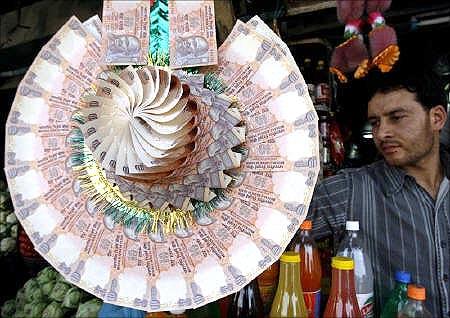 The Reserve Bank of India unexpectedly raised its policy interest rate on Tuesday by 25 basis points (bps) but said that if consumer price inflation eases as projected, it does not foresee further near-term tightening.
The RBI raised its policy repo rate by 25 bps to 8.00 percent. Most economists in a Reuters poll conducted last week had expected no change in rates.
A. Prasanna, Economist, ICICI Securities Primary Dealership, Mumbai:
"I think it's reasonable to say in the next policy they will stay on hold, but beyond that a rate hike cannot be ruled out. What is more important is that he (RBI Governor Raghuram Rajan) has more or less accepted the (Urjit Patel) panel's recommendations.
As he (Rajan) said, when inflation is high, there is no trade off. When inflation is above 6 percent, anyway it is inimical to growth."
Upasna Bhardwaj, Economist, Ing Vysya Bank, Mumbai:
"Even as the current rate hike is a surprise, the RBI has indicated that if inflation were to remain in line with their projections, there will not be any more need for rate hikes. We expect the RBI to pause through the year. Additionally, it seems like the RBI has implicitly accepted the Urjit Patel panel recommendations implying continued focus on CPI going ahead."
Radhika Rao, Economist, DBS, Singapore:
"Odds of a rate hike had risen after the hawkish RBI panel report and that has come to fruition. While the pullback in December inflation was acknowledged, the upward pressure in service sectors and wage-led pressures were highlighted as the key drivers behind today's hike.
"Notably, the post-policy commentary touched upon the trends in both WPI and CPI, steering clear of signalling which index will be given higher weightage in policy decisions. For now, this should mark the peak of the rate hike cycle, with the central bank's growth projections close to our conservative estimates at 4.8 percent for FY14 and 5.3 percent for FY15."
Nitesh Ranjan, Economist, Union Bank Of India, Mumbai:
"With this policy, the essence of the Patel Committee report has found its place in the RBI's objectives. Price stability as primary objective and headline CPI as the nominal anchor are here to stay. We were expecting this hike, though consensus was for a status quo. On April 1 (the next policy date), we may not see change in policy rate, but some more actions in line with the committee report may be expected."
Dariusz Kowalczyk, Senior Economist And Strategist, Credit Agricole Cib, Hong Kong:
"This (the rate hike) is very surprising given that inflation fell sharply of late. The central bank continues to confound markets after withholding from an expected hike at the previous meeting despite having talked tough about inflation.
"The repeated wrong-footing of markets is likely to hit Indian assets today, and we expect declines of the INR, G-Sec bond prices and equities. Stocks and the currency will suffer also from the negative impact of the decision on growth."
Market Reaction
The benchmark 10-year bond yield rises 8 basis points to 8.79 percent after the central bank raises the repo rate.
The partially convertible rupee trims gains to be at 63.10 per dollar, from 62.99 before the repo rate hike.
The Sensex falls 0.6 percent the repo rate hike; had been up 0.2 percent before.
Background
The wholesale price index (WPI), India's main inflation indicator, climbed an annual 6.16 percent in December, its slowest pace since July 2013, compared with 7.52 percent in November, data showed this month.
Production at factories, mines and utilities shrunk for the second straight month in November, by 2.1 percent, data showed earlier this month, dragged down by a contraction in consumer goods output.
Reserve Bank of India governor Raghuram Rajan last week called inflation a "destructive disease" that was forcing the bank to keep interest rates high.
The RBI should make managing inflation its main policy objective and set monetary policy by committee, a central bank panel recommended last week, a shift that would bring its practices in line with many other central banks.