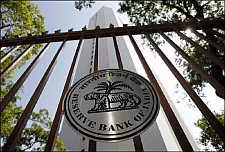 The RBI has imposed fines totaling Rs 49.5 crore (Rs 495 million) on 22 private and public sector banks, including SBI, PNB and Yes Bank, for violating KYC/anti-money laundering norms.

It also gave cautionary letters to seven banks, including Citibank and Stanchart, following an expose made by an online portal.

"After considering the facts of each case... Reserve Bank came to conclusion that some of the violations were substantiated and warranted imposition of monetary penalty..." the central bank said in a statement.

A penalty of Rs 3 crore (Rs 30 million) each has been imposed on State Bank of India, Bank of India, Canara Bank, Bank of Baroda, Central Bank of India, Indian Overseas Bank and Federal Bank.

United Bank of India, Lakshmi Vilas Bank, Punjab National Bank, Jammu & Kashmir Bank and Andhra Bank were slapped a penalty of Rs 2.5 crore (Rs 25 million)
each.
A penalty of Rs 2 crore (Rs 20 million) each was imposed on Yes Bank, Vijaya Bank, Oriental Bank of Commerce and Dhanlaxmi Bank.
The other banks which were penalised by the RBI include Deutsche Bank, Development Credit Bank, ING Vysya Bank, Kotak Mahindra Bank and Ratnakar Bank.
Besides, Reserve Bank has issued cautionary letters to Citibank, Standard Chartered Bank, Barclays Bank, BNP Paribas, Royal Bank of Scotland, Bank of Tokyo Mitsubishi and State Bank of Patiala.
Following probe into charges levelled by an online portal Cobrapost, RBI has earlier imposed fines totalling Rs 10.5 crore (Rs 105 million) on top three private lenders - Axis Bank, HDFC Bank and ICICI Bank.
Although the investigation did not reveal any prima facie evidence of money laundering, RBI said that "any conclusive inference in this regard can be drawn only by an end-to-end investigation of the transactions by tax and enforcement agencies".