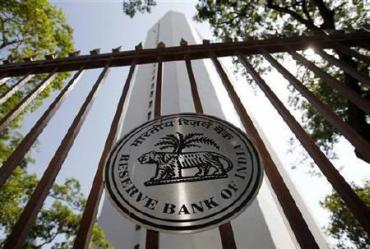 The Reserve Bank on Monday reduced the marginal standing facility (MSF) rate, at which banks borrow from it, to 9 per cent from 9.5 per cent to improve liquidity in the system.
"It has been decided to reduce the marginal standing facility (MSF) rate by a further 50 basis points from 9.5 per cent to 9 per cent with immediate effect," the RBI said.
The cut comes after a review of evolving liquidity conditions and in continuation of its calibrated unwinding of exceptional measures taken since July, the central bank said.
This is the second reduction in the rate since the September 20 mid-quarter monetary policy review, when it was lowered to 9.5 per cent from 10.25 per cent.
The RBI took steps in mid July, including raising the MSF rate by 2 per cent to 10.25 per cent, to tighten liquidity in an attempt to curb volatility in the rupee-dollar exchange rate. MSF allows banks to borrow money from the central bank at a higher rate when there is a significant liquidity crunch.
The RBI said it conducted open market purchase operations of Rs 9,974 crore (Rs 99.74 billion) today with the aim of injecting liquidity into the system.
The central bank also said it will provide additional liquidity through term repos of 7-day and 14-day tenor for a notified amount equivalent to 0.25 per cent of net demand and time liabilities (NDTL) of the banking system through variable rate auctions every Friday, starting October 11.
The notified amount and tenor of the term repo auctions will be announced prior to the auction dates.
Last month, the RBI said it injects about Rs 1.5 lakh crore into the system daily through the liquidity adjustment facility, the export credit refinance facility and the marginal standing facility.