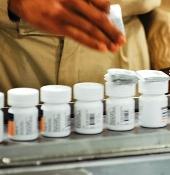 Ranbaxy Laboratories on Thursday inked a licensing pact with EPIRUS Switzerland GmbH for BOW015, a biosimilar version of Infliximab prescribed to treat rheumatoid arthritis.

EPIRUS Switzerland GmbH is a wholly-owned subsidiary of Boston-based Epirus Biopharmaceuticals, Inc.

The product will be introduced in India and other Emerging Markets, the company said in a statement.

At present, there is no biosimilar of Infliximab approved in India, it said.

Under the terms of the agreement,
EPIRUS will develop and supply the product; and upon regulatory approval, Ranbaxy will market the same in India and other emerging markets.
Commenting on the partnership, Sanjeev I Dani, Executive Vice President & Head, Global Strategy, Ranbaxy, said, "We will utilise our strong front-end capabilities in making this product available in India and other parts of the world."
Amit Munshi, President and CEO of EPIRUS said: "We are very pleased to work with Ranbaxy to register and commercialise this important medicine.
Ranbaxy has the right focus and infrastructure in these markets to effectively bring this product to the market."