Analysts and heads of treasuries at banks have opined that `the Rajan effect' -- the impact of the measures unveiled by new Reserve Bank Governor Raghuram Rajan -- will continue to play out in the forex market this week as well.
Market participants see the rupee rising to 63 against the dollar this week and trading in the 63-65.50 range.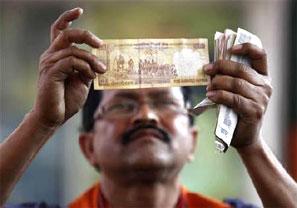 Rajan's first few measures include swap window facility for banks to lure in NRI funds, and reversal of some of the controls that his predecessor Governor D Subbarao had introduced. Also, the August 31 meeting that economic affairs secretary Arvind Mayaram and banking secretary Rajiv Takru held with foreign banks who control the domestic forex market had a positive impact on the rupee, say analysts.
"The rupee will continue to be strong. It was already in the overshoot turf. The measures announced by the RBI have come as a catalyst," said Harihar Krishnamoorthy, treasurer at the South African lender FirstRand Bank.
Rajan, after taking over from D Subbarao on September 4, has announced a slew of measures to attract inflows from overseas investors, including the NRIs. To boost foreign fund inflows and help banks get funds at cheaper rate, Rajan announced a special window to swap foreign currency non-resident (FCNR) dollar funds mobilised by banks.
The RBI also doubled the re-booking amount that exporters can do on their cancelled forward contracts to 50 per cent from 25 per cent. It also extended the facility to importers who were not allowed to re-book their cancelled forward contracts.
Further, it restored the permission to invest 400 per cent of a domestic corporate's networth in foreign market provided it has raised the funds through external commercial borrowing (ECBs) route.
The measures announced by Rajan were well-received by the markets with the rupee recovering by 3.5 per cent between September 3 and 6. Last Friday, the rupee closed up at 65.24 while the Sensex rallied more than 1,000 points in three days to Friday.
Another positive rub-off will be the less than expected jobs data from the US, as it is expected that the Fed will hold more signals to go ahead with its tapering, which is scheduled to begin from November.