Railway officials said important projects at crucial stages would now be stuck for a long time
At a time when Indian Railways (IR) was readying itself for a culture of negligible political interference in setting service charges, Pawan Kumar Bansal's exit from the railway minister's post has dealt a blow.
Bansal's exit isn't the only worry; the seven-member Railway Board, the highest decision-making body in the ministry, is under the Central Bureau of Investigation scanner, something unprecedented in the history of the railways. "There is a sense of disbelief in the ministry. Suddenly, everything seems to be under the scanner," said an official.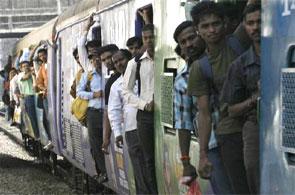 On the operational front, there might not be many hurdles, as railway systems are well oiled. However, officials said important projects at crucial stages would now be stuck for a long time.
On May 2, the government had revived a proposal to set up an electric locomotive factory at Madhepura, Bihar, as well as a diesel locomotive factory at Marhowra in the same state. The Union Cabinet had decided to approve a fresh bidding process for the projects. In 2006, then railway minister Lalu Prasad had announced the two projects would be set up in partnership with private players, with the railways holding 26 per cent stake in each. However, work on the projects didn't take off.
IR, whose performance in public-private partnership initiatives has been dismal so far, is targeting private investment of Rs 1 lakh crore in the five-year period ending March 2017. An official said besides the two projects in Bihar, more were in the pipeline.
Smaller railway works, too, are expected to go on slow mode. Since the Bansal scam related to appointments at the highest levels, rise to new posts at the zonal and division railway levels would also be slow. "Appointments of more than two general managers are due. Besides, divisional railway managers (DRMs) are rotated at this time of the year," said the official. Some 50 DRMs are appointed for a fixed tenure of two years and they are rotated twice a year.
The Railway Board, which has six members and a chairman, has two vacant posts, after member (staff) Mahesh Kumar was suspended earlier this week. The post of member (traffic), vacant for around a month, is yet to be filled. Recently, the government had appointed Subodh Jain as member (engineering), Mahesh Kumar as member (staff) and Arunendra Kumar as member (mechanical). Vinay Mittal, chairman of the board, is slated to retire in June, along with Vijaya Kanth, finance commissioner.
An important agenda for Bansal was setting up the rail tariff authority. When a new minister takes charge, this, too, is expected to be revisited.
The formation of the authority was aimed at institutionalising the segregation of the railways' tariff-setting powers from those of the Railway Board.
Photograph: Arko Dutta/Reuters