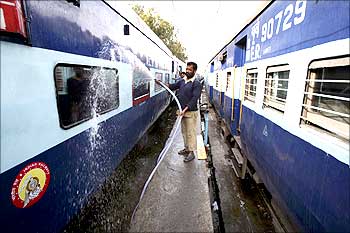 The rise in rates across passenger and freight segments will not give any major boost to railway finances.

With losses from the passenger segment expected to be around Rs 26,000 crore (Rs 260 billion) a year, the introduction of a fuel adjustment component in fares here will merely add Rs 450 crore (Rs 4.5 billion).

The seasonal rise in freight is unlikely to add anything beyond budgeted revenue, as the targets are set in accordance to the expected hike.

"This seasonal hike is already included in the budget. Our budget targets were set accordingly," said a senior railway official.

The spike in energy and staff costs would be the major reason why Indian Railways would not be able to gain anything extra.

The budget target for 2013-14 has been set at 1,047 million tonnes (mt), 40 mt more than that for 2012-2013.

The freight earnings are expected to be Rs 93,554 crore (Rs 935.54 billion), up nine per cent from the previous year.

The passenger earnings have been set at Rs 42,210 crore (Rs 422.1 billion).

Energy costs make up for 25-30 per cent of the Indian Railways budget.

The energy bill of Indian Railways in 2013-2014 is expected to be Rs 24,000 crore (Rs 240 billion).

The fuel adjustment component applicable from October 10, expected to add Rs 700 crore (Rs 7 billion), will merely take care of the fuel price hike.

The 5.7 per cent FAC applicable since April 2013 will fetch about Rs 2,400 crore (Rs 24 billion).

This should be viewed in the light of increased energy prices, which have gone up by 20 per cent for electricity and railways since 2012.


Rising staff costs is another major factor that will feed into the profits of the Railways.
Dearness allowance has been raised by 10 per cent from July 1.
This is along with the increased productivity-linked bonus for over 1.2 million Railway employees, which will cost Rs 1,043 crore (Rs 10.43 billion).
Although the railways is expected to gain Rs 450 crore (Rs 4.5 billion), it is yet to be known how much losses has the Railways absorbed under the FAC.
In 2012-13, Indian Railways absorbed Rs 850 crore (Rs 8.5 billion) only on account of rising fuel costs.
While the increase in rates may help the railways achieve its budget target, the persistent rate hike has hampered the volume growth.
In 2012-2013, Railways fell short of its target by 15 million tonnes and despite a spike of 22 per cent in revenue, the volume grew by a modest 40 million, compared to the previous year.
In 2011-2012, the railways maintained a growth rate of 5.16 per cent on its volume, which fell to 4.13 per cent in 2012-2013.
The steep increase in freight rates also capped the volume growth, which would be limited in its growth because of high rates and railways' limited capacity.
"If each year we set the budgetary targets which are higher than the last year without capacity augmentation, how will we achieve without increased rates?
"Also, remember there is no income but only losses at the passenger segment," said a senior official.