As major economies grappling with financial slowdown and uncertainty over returns from green projects, private equity (PE) investments in clean technology projects have almost halved this year.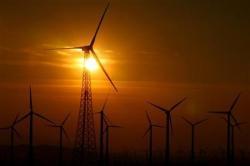 The sector saw only 12 PE investments worth around $396 million this year, compared to $793 million in 2011.

Venture Intelligence data reveals that in 2008, there were 33 PE deals in clean tech, including wind energy, solar energy, hydel energy, waste management energy equipment, and bio energy.

The number came down to 12 by October 2012. Venture Intelligence is a research service focused on PE and mergers and acquisitions (M&A).

According to experts, PE investments in clean technology are low this year, for several reasons.

"First, in April, the government withdrew the accelerated depreciation benefit (tax benefit for investing in machinery for generating wind power) from the wind power sector. This dampened investment in wind energy," said Sagar Gubbi, managing partner of Ecoforge Advisors Pvt Ltd.

Second, there is no certainty over the second commitment period of the Kyoto Protocol, and the crashing carbon credit market is also not helping revive investors' confidence in the green market, he added.

Ecoforge is a boutique investment advisory and consulting firm, focusing on utility-scale and off-grid (captive and micro generation) renewable energy sectors.

With PE investors shying away from the Indian market, Ecoforge is now expanding its operations in Indonesia, the Philippines and South Africa, where the clean technology market is picking up.

Domestic challenges

However, some market observers said other than the uncertainty over the global carbon market; lack of regulatory support in the domestic sector should also be blamed for the investors' apathy.

"More than the uncertainty over the Kyoto Protocol, it is the uncertainty over the renewal energy certificate (REC) programme that is denting the sentiments. The government had started the REC regime under which power distribution companies were mandated to buy the certificates. But there are no buyers for REC now. Lack of strict imposition of the regime is another reason for the lack of interest," said Abhay Anand, business director (infrastructure, energy) of Cipher Capital Advisors.
CLEAN DRIVE
Break-up of PE investments between Jan 2008 and Oct 2012
  
No. of deals
Amount (in US$ M)
Wind energy
17
1,269
Power producers (Multiple Sources)
16
793
Solar energy
16
275
Hydel energy
11
212
Waste management

  

7
115
Energy equipment
17
196
Bio energy

  

9
153
Others
37
286
Total
130
3,299
Source: Venture Intelligence, a research service focused on private equity & M&A
These renewable energy certificates are a tradable instrument, with each certificate representing 1,000 units of power generated from renewable sources and sold to the grid.

However, according to Anand, most of the investments in the past couple of years were long-term commitments, made over three to five years for creating assets in wind and solar energy. To expect the same pace of investments in the next three to five years is not realistic, he said.

Overlooking the negative sentiments, Sanjeev Krishan, executive director, PricewaterhouseCoopers, said, "There is a lot of buzz around the clean technology market. The space continues to be exciting. Large infrastructure funds are showing interest in investing in India (in green technology)."

However, he agreed there are challenges around the solar and hydel energy projects, due to the problem of scalability.

He also warned that unless the Indian government gave some regulatory support to the sector, funds would move to the Philippines, Indonesia and South Africa, which are fast emerging as the next clean tech markets.