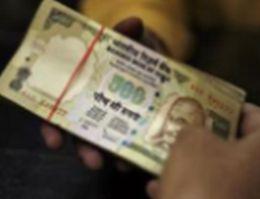 Private banks appear to have managed credit risks better than their state-run counterparts, trimming their exposure to stressed sectors and shifting focus to the retail segment.
"Most private banks continued to report healthy asset quality, driven by the retail segment. Though there is some visible stress in the corporate sector, this remains manageable, given limited exposure.
Some banks, with meaningful exposure to power, infrastructure, etc, have been reducing their exposure through recent years," Deutsche Bank said in a note, after analysing the annual reports of private banks for 2013-14.
While private lenders have been cautious in offering loans to companies under stress through the past few years, the current uncertain macroeconomic environment has made them reduce exposure to the stressed sectors further.
"In the private sector, Axis Bank and ICICI Bank are two major banks with the highest exposure to stressed assets. But both have improved their ratios through the last two years," Deutsche Bank said.
In 2013-14, ICICI Bank, the largest private lender in India, cut the share of its exposure to sectors such as mining (including coal), textiles, chemicals and infrastructure, compared to a year earlier.
Axis Bank, too, reduced the share of its exposure to sectors such as iron & steel, engineering, chemicals, gems & jewellery and infrastructure.
A recent report by rating agency Icra had said at the end of the March quarter, the gross non-performing asset ratio of private banks had improved 10 basis points to 1.8 per cent, compared to the previous quarter.
The Deutsche Bank report said, "The retail segment has emerged as the strongest, despite growing concern in the commercial vehicle space.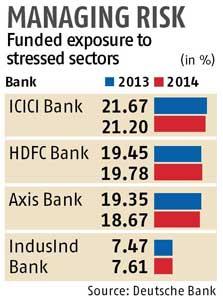 Despite growing fast on agriculture, private banks have not witnessed any stress, unlike public sector banks."
With private banks increasing their farm loan portfolios, their shortfall on the overall priority sector lending target appears to have reduced.
Private lenders have also been expanding their branch and automate teller machine networks aggressively.
This has helped them extend their reach and strengthen the low-cost current account and savings account deposit base.