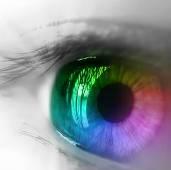 At this year's Comic Con in Delhi, I came across a crowded stall where people seemed to stand in queue to try on a pair of glasses and stare at the big TV playing out game videos and other stuff.

Not another demonstration for 3D glasses, I thought.

Soon, I was invited to try those out.

As I put on a rather stylish pair to look at the screen, I realised it wasn't 3D vision.

Rather I was looking at the same screen but something seemed different.

And then I saw the name of the company -- Gunnar, known among gamers for their range of computer glasses.

Since I spend practically all my waking hours in front of the PC screen, I was game when they asked me to review a pair -- the entry-level Rocket Onyx. Diligently putting on the pair every time I sat in front of the screen, I didn't notice much of a difference in the first couple of days.

Of course, my eyes didn't feel dry after extended hours in front of the computer.

But I wasn't sure if it was worth spending Rs 4,500 on a pair of glasses just for that when any decent anti-glare pair could be had for as little as Rs 2,500.

And, it needs some getting used to, as your peripheral vision is affected by the wrap-around glasses -- one of my friends who used this pair for a while even reported feeling nauseous.

Later in the week, when I was suffering from the effects of sleep deprivation because of a very interesting read, this pair came to my rescue.

I mean when you have a throbbing
pain in your head, the last thing you want to stare at is the computer screen.
This pair made it easy for me to look at the screen by cutting out the glare and improving the contrast, as the company claims. I don't know the science involved, but the pair did make it easy for me to work.
Since I don't wear prescription glasses, this pair worked fine for me. But it didn't impress my wife too much.
She wears contacts and the company says it has specialised eyewear for those who wear glasses.
I also got a couple of friends, who don't wear glasses, to try on the Gunnar eyewear and while both said they didn't suffer from dryness of the eyes, only one reported that he didn't suffer from fatigued eyes.
This means the glasses will work for most of the people, but might not work for some, so try these out once before buying.
I also tried reading with these glasses on and didn't feel any discomfort, but you won't be able to wear the glasses all the time because of two reasons: One, it's difficult to get through the day looking at the world through amber-tinted lenses; and two, you'll definitely be called a nerd by the end of the day if you aren't already called one.
So, will I buy this pair with my hard-earned money?
The answer is 'yes', and in case you're wondering why I'll pay the extra Rs 2,000, it's because your eyes are priceless.
I had a pair of anti-glare glasses earlier and frankly all it did was prevent my eyes from going dry.
But try it out first before you part with the cash.