A higher subsidy burden and a shortfall in revenue receipts might force the government to lower its Plan expenditure this year, too, as it is determined to restrict its fiscal deficit to 4.8 per cent of GDP. The move may, however, pull down GDP growth, which fell to a four-year low of 4.4 per cent in the quarter ended June 2013.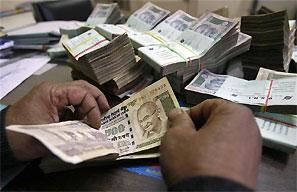 Planning Commission deputy chairman Montek Singh Ahluwalia said a cut in Plan expenditure could be considered while finalising the Revised Estimates. Asked whether it was proposed that Plan expenditure be cut, he said: "If we are asked to do so, we will cooperate. Discussions usually start around November. The finance ministry has said the 4.8 per cent target for fiscal deficit is sacrosanct."

A cut in government spending would come at the cost of growth. In the quarter ended June, growth was primarily aided by community, social and personal services, representing largely government spending. The category expanded 9.4 per cent, against 8.9 per cent in the year-ago period and four per cent in the quarter ended March this year.

Finance Minister P Chidambaram had said the target of reining in fiscal deficit at 4.8 per cent of GDP this financial year was a red line that wouldn't
be breached. In the first quarter of this financial year, the government's fiscal deficit touched 10.49 per cent of GDP, standing at 62.8 per cent of the Budget estimate for 2013-14, against 51.5 per cent in the year-ago period.
In 2012-13, the government was able to rein in its fiscal deficit at 4.9 per cent, against the Budget estimate of 5.2 per cent, owing to a cut of Rs 92,000 crore in Plan expenditure. This year, however, the cut is unlikely to be so steep, as the Budget estimate is only 11.7 per cent higher than that last year.
Owing to the rupee depreciation and a rise in crude oil prices, this year, there would be a higher-than-projected burden for fuel subsidy and, to an extent, fertiliser subsidy. Besides, meeting the disinvestment target of Rs 40,000 crore would be difficult if the market situation doesn't improve.
So far, receipts from divestment stand at only Rs 1,325 crore. Tax collections also face the risk of a shortfall. Continuing with its austerity measures announced last year, the finance ministry might also issue instructions for a 10 per cent cut in non-Plan expenditure and a ban on creation of new government posts.