If you thought Prime Minister Narendra Modi's recent call for "tough decisions" signalled the onset of a jerky price-increase regime, you might now have a reason to rethink.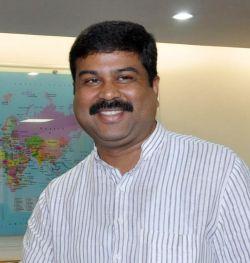 The government does not seem inclined, at least in the petroleum sector, to effect sudden and steep upward price revisions to tame its huge subsidy burden and rein in fiscal deficit.
"Taking tough decisions does not mean burdening people with price hikes. The consumer is an important part of the entire economics," Petroleum Minister Dharmendra Pradhan told Business Standard in an interview. "Persuasion, rather than burdening, is required. And persuasion requires building people's confidence in the government."
The petroleum ministry had on Wednesday reversed the quarterly revision in prices of domestic liquefied petroleum gas (LPG) and kerosene that was to happen on account of an increase in state taxes.
The revision would have increased LPG price by up to Rs 5.5 a cylinder and made a litre of kerosene eight paise more expensive.
"We will try to persuade states not to levy additional taxes where these are not justified. As a sensitive government, we have the responsibility to strike a balance and not burden consumers," Pradhan said.
On Tuesday, the government had raised the price of non-subsidised LPG by Rs 16.50 a cylinder, as international oil prices increased due to the Iraq crisis. Oil marketing companies (OMCs) had increased rates of petrol by Rs 1.69 a litre and diesel by 50 paise a litre a day before that.
Pradhan said LPG and kerosene prices had not been raised in the public interest and OMCs had absorbed the burden, despite the pressure of zooming crude oil rates on the government.
Amid reports the ministry could move the Cabinet for raising kerosene and LPG prices, as recommended by an expert committee, Pradhan clarified there was no fresh proposal to raise cooking gas prices or change the duty structure for diesel.
The committee, headed by former Planning Commission member Kirit Parikh, had in October suggested that price of diesel be raised by Rs 5 a litre, of kerosene by Rs 4 a litre and of domestic LPG by Rs 250 a cylinder immediately, to cut fuel subsidy bill by Rs 72,000 crore.
"Even in diesel, we have not passed on the entire burden to consumers. We have only continued the 50-paise-a-month hike in practice for the past 17 months," Pradhan said.
Sources said the ministry was likely to propose continuation of the monthly increase in diesel prices till the present Rs 3.40-a-litre loss on the fuel was fully offset.
Diesel prices have cumulatively been raised by Rs 10.68 a litre in 17 instalments since January 2013, when the previous government decided to effect monthly hikes.
When the Modi government took charge in May, losses on diesel sales stood at Rs 4.41 a litre. These narrowed to Rs 2.80 in the first half of June and then to Rs 1.62 in the second fortnight.
Petrol prices were deregulated in June 2010 and have moved more or less in sync with costs. Besides diesel, oil firms at present lose Rs 33.07 a litre on kerosene sold through the public distribution system (PDS) and Rs 449.17 on LPG.
OMCs are now incurring a combined daily underrecovery (revenue loss) of around Rs 271 crore on the sale of diesel, PDS kerosene and domestic LPG. The underrecoveries for 2014-15 are projected to be Rs 91,665 crore (Rs 916.65 billion), compared with Rs 1,39,869 crore (Rs 1.40 trillion) in 2013-14.
Pradhan also said the UPA government's Aadhar-based LPG subsidy transfer was an ill-prepared political stunt and his government supported technology-based delivery solutions for direct benefits transfer.
He added the ministry was looking at several proposals for new pipelines to improve India's gas pipeline network, even as the much-delayed Turkmenistan-Afghanistan-Pakistan-India project continued.
Please click here for the Complete Coverage of Budget 2014 -15