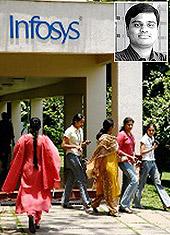 Infosys said on Friday its Company Secretary and Compliance Officer Parvatheesam K has resigned from the company.

"Parvatheesam K has conveyed his intention to step down as the Company Secretary and Compliance Officer to pursue higher studies," Infosys [ Get Quote ] said in a filing to the Bombay Stock Exchange [ Images ].

The board of directors, at the meeting held on April 13, has accepted the resignation of Parvatheesam K and the resignation is effective from the end of business hours of April 13, it added.

The company has appointed N R Ravikrishnan as the company secretary and compliance officer with effect from April 14, it said.
Image: Parvatheesam K (inset) | Courtesy: Infosys site.