The government has decided to ask for a joint working group meeting with Pakistan on confidence-building measures regarding the border.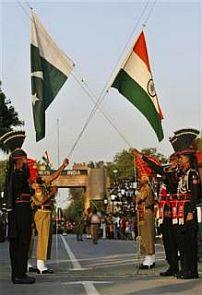 The decision was taken by the ministry of external affairs (MEA) on Tuesday, many days after Pakistan suspended trans-Line of Control trade and bus services, following the arrest of a Pakistani truck driver for allegedly smuggling narcotics meant for an Indian national.

It is learnt Pakistan is going to ask for immunity to drivers and labourers from its side of the LoC from any criminal investigation or prosecution by Indian authorities and that such persons "can be only investigated by the Azad government of the state of Jammu and Kashmir," a source told Business Standard.

Pakistan has kept the services suspended for a little over 10 days but has not publicly stated its stance.

"Over two weeks, India has repeatedly emphasised to Pakistan to allow full resumption of travel and trade across the LoC… All ambiguities which could have arisen in the interpretation
of the standard operating procedures must be removed immediately. There appears to be a mistaken perception that trucks and drivers plying the trans-LoC trade route would be granted immunity from prosecution for criminal activities," said Syed Akbaruddin, joint secretary and spokesperson, MEA.
He said it was "regrettable" that Pakistan had refused to resume trans-LoC travel and trade "for the sake of a drug trafficker caught smuggling narcotics into India".
According to the modalities agreed earlier, the Trade Facilitation Officer located near the crossing points - Kaman Post and Chakkan-da-Bagh - near the LoC would examine cargo to verify only permitted goods were being shipped.
If the goods were in breach of law, the matter should be handed to the Jammu and Kashmir Police, contends Delhi.
On January 17, driver Muhammad Shafi, plying on the Chakothi-Uri crossing point, was arrested by Indian authorities for the drugs consignment.
After this, Pakistan stopped all Indian trucks from returning towards the Indian side. Last week, India had summoned Pakistan deputy high commissioner Mansoor Ahmad Khan on the issue.