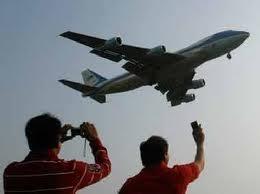 The high growth in Indian aviation market, which would in future be triggered by regional operations, was being restrained by over-taxation and lack of infrastructure in smaller cities, a recent study has shown.

"It is a well known fact that the Indian aviation industry is overtaxed and this is being reflected in the industry's lack of competitiveness at the global level.

"It is important for India to acknowledge the devastating impact of high taxes," the study on the aviation sector, carried out by consultancy major KPMG and industry body Federation of Indian Chambers of Commerce and Industry, said.

Indian carriers are expected to double their fleet size by 2020 to 1,000 aircraft by 2020, promising a huge opportunity for the maintenance, repair and overhaul business.

But high taxation could drive away investment in this crucial area, it said.

Total manpower requirement of airlines is estimated to rise from 62,000 in 2011 to 117,000 by 2017, the report said.

In its recommendations, it said that some of the taxes or charges which should be avoided and which require immediate attention from the Centre and state governments
were the taxes on aviation turbine fuel and MRO, Service Tax on air tickets and high airport charges.
Noting that the current MRO market in India was estimated to be around $700 million, it said currently, merely five to 10 per cent of MRO work for Indian airlines was carried out in India and most of it outsourced to third-party service providers outside the country.
"This is a classic case of scoring self-goals."
With the projected doubling of the Indian fleet by 2020, it becomes critical to have a strong domestic MRO industry, the Ficci-KPMG study said, urging the government to set up an inter-ministerial task force on MRO to check the outflow of MRO revenue, foreign exchange and jobs.
Maintaining that the next generation of aviation growth would be triggered by regional airports, the study said at present, there were around 450 used, unused or abandoned airports and airstrips spread all over the country which could be used to promote air traffic from unconnected regions.
"A lot more needs to be done, as several Tier 2/3 cities are still unconnected or under-served.
"These involve relaxation on regulations, revising the security requirements, allowing domestic code sharing, providing free or discounted utilities and connecting infrastructure," the report said.