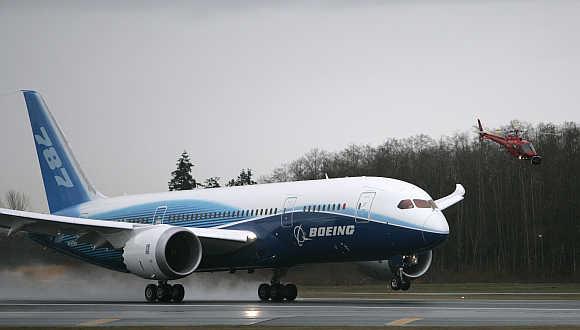 Air India's Dreamliner fleet suffered 136 'minor' technical problems between September last year and last month, Rajya Sabha was informed on Tuesday.

All these problems were fixed by the airline's and Boeing's technical teams, Minister of State for Civil Aviation K C Venugopal said in reply to a question.

"As far as technical snags on the Boeing 787 (Dreamliners) are concerned, these issues do not adversely affect the safety of the airplane due to in-built system redundancy," he said.

Since September 2012 when the plane's induction began till November 27, this year, "136 minor technical snags have occurred on these aircraft which were fixed by Boeing/Air India technical teams with alacrity", he said.

Vengugopal also said that any new aircraft, when inducted initially, 'face teething troubles and regular improvements are incorporated as part of reliability enhancement process'.

This was a 'normal process followed as an intrinsic part of maintenance programme throughout the entire lifespan of the aircraft',
he said.
Observing that a Boeing team was currently in India to upgrade the software in these planes, he said each Boeing 787 was being grounded for ten days since the beginning of this month for maintenance and these upgrades.
Air India was constantly in touch with Boeing on the issue of technical reliability of these new aircraft, he said, adding engineers and technicians from the American manufacturer were installing a reliability enhancement package involving upgrades to the software and components in the aircraft.
The Boeing team is also involved in the root cause analysis and evolving remedial measures, he said.
The minister also pointed out that the dispatch reliability for these Boeing 787 Dreamliners had improved from 94.42 in the first quarter of this year to 95.94 in the second quarter and 97.15 in July.
Dispatch reliability is the ratio of the number of flights delayed due to technical faults to the total number of flights, expressed as a percentage.