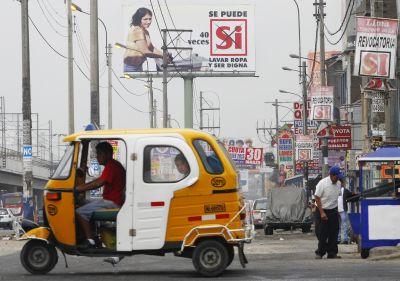 Bajaj three-wheelers outsell Chinese three-wheelers in Peru. The Pulsar is number one in its category. Nikhil Lakshman discovers in Lima that even though the Chinese are far ahead in investments in Latin America's fastest growing economy, Indian manufacturing and IT are holding its own.
$200 million worth of gold.
That is what India imported from Peru in the last few months, enabling India-Peru trade to rise by 35% in 2012 and by 44% in the first five months of 2013.
Manpreet Vohra, India's dynamic ambassador to Peru, expects these figures to fall after the finance ministry imposed tough measures on the import of gold earlier this year to keep the Current Account Deficit in check.
India imported $80 billion worth of gold last year, causing the CAD to spiral dangerously.
Peru was one of the beneficiaries of this excess, after India decided to import the gold ore directly from the country of its origin, without going through the refining process in Canada and Switzerland.
On Monday, Vice President Hamid Ansari launched the Indian Chambers of Commerce to facilitate Indian trade and industry to do business in Peru and other Latin American countries.
INCHAM (http://incham.pe/drupal/) will seek to increase awareness of either country's business opportunities in the other, it will offer information and advisory services, and it will provide the important bridge between businesses and governments that is vital when economic relations reach a take-off stage, as they have between India and Peru, a statement issued on the occasion said.
"Peru is rapidly becoming one of the more important trade partners for India in this region," the vice president noted. "Looking at the potential, the governments of India and Peru are hoping to start negotiations soon for a Free Trade Agreement."
"Indian investments in Peru are also rising," Ansari added. "The number of Indian companies with offices here is increasing steadily, as also the number of Indian professionals working here. Another document that we hope to finalise with Peru soon is the Bilateral Investment Promotion and Protection Agreement."
Of course, India-Peru trade -- $1.12 billion in 2012 – is a tiny sliver of the business Latin America's fastest growing economy does with India's northern neighbour.
Peru -- the world's largest producer of copper, silver zinc -- grew at an average of 6.4% in the decade 2002 to 2012, largely via its exports of minerals to resource-starved China. The growth in GDP has helped Peru to move millions of Peruvians into the middle class, and cut poverty from 59% to 26%.
Though barrios that resemble the shanty towns which populate the outskirts of Indian cities can be seen on the rim of the capital Lima, the city itself is a smart good-looking enterprise with well designed apartment blocks whose inhabitants live behind a thicket of fences, to keep away what one young Peruvian woman called the "delinquents."
China's slowdown in the first half of this year has had its impact on Peru. Finance Minister Luis Miguel Castilla Rubio -- who earlier expected Chinese investment in Peru to reach $20 billion by 2018, for which he said he lit a little candle every day -- believes the Peruvian economy to grow only between 5.5% and 6% this year. Mineral shipments to China have already fallen by 12% (by weight) and 15% (by value) in the first six months of 2013.
Even though Chinese goods have flooded Latin America, Ambassador Vohra says Indian manufacturing class has helped products sourced from India to do well.
Though Chinese three-wheelers are cheaper, the Bajaj three-wheeler, says Ambassador Vohra, is the market leader, selling 2,000 three-wheelers a month. Its Pulsar too is the top-seller in its category. Noting Bajaj's success, TVS also arrived in Peru with its three-wheeler; the Chennai company already sells 300 units.
Unlike the Chinese expansion in Peru -- which is driven by its cash-rich government-owned companies, who can easily snap up things like the iconic 4,000-metre mineral-rich Toromocho mountain for $860 million -- Indian investment and trade in Peru, an important destination for a resource-needy developing nation like India, is being propelled by its private sector.
Ambassador Vohra reveals that eight Indian companies have now invested between $35 million and $50 million in Peruvian mines; these companies will need to invest up to $200 million to verify if its investment will yield the proverbial pot of gold. Mining is a notoriously cash-guzzling business, and that is probably why the Chinese mining companies with their deep pockets are ahead in the game.
In a paper for the Center for Hemspheric Policy at the University of Miami, William H Avery, a former US State Department official who served in India, believes that though India lacks China's financial avoirdupois -- $3.2 trillion in foreign exchange reserves, a powerful development bank which finances its commodities quest and enormous State-run companies – India has one thing China lacks in Latin America -- a vast army of private sector companies that are globally competitive.
Avery believes Indian companies are helping to build the capabilities of local companies in ways that China is not. In Chile, Indian IT companies employ over 2,000 Chileans (apart from the Mahindra pick-up truck being the vehicle of choice in Chile's huge mining industry).
TCS has a development centre in Peru; Mahindra Satyam and Wipro also have offices in the country. IT, along with pharma, electrical equipment, energy and cosmetics (Godrej has major stakes in Argentinean and Chilean hair care companies!) are the instruments India has elected to make an impact on the important Latin American market.
And -- in a continent which is the Bill Gates of minerals -- of course, in mining too.
Unfortunately, not all has gone well. India's biggest investment in Latin America -- Jindal Steel and Power's $2.1 billion proposal to develop Bolivia's Mutun iron ore mine – has gone belly-up. Vohra, who is also India's ambassador to Bolivia, confirms that the Jindals are no longer involved in Mutun and India's largest FDI project south of the Rio Grande is over.
Image: A three-wheeler seen on the roads of Lima, Peru. Photograph: Enrique Castro Mendivil/Reuters