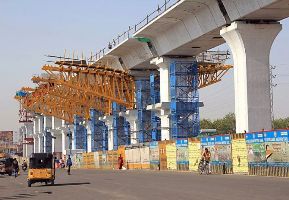 Additional secretary and chairman of the Project Monitoring Group in Cabinet Secretariat Anil Swarup on Friday said they would be launching web-based clearance system for issues pertaining to environment, mining and coal linkages of stalled projects from September.

"We have already launched the web-based forest clearances system.

"Now, we will be launching a similar web-based system for environmental clearances on September 1, for mining clearances on November 1 and for all coal-related clearances in the fourth quarter of the current financial year," Swarup said after launching the state level investment tracking portal for the Andhra Pradesh government.

While 44 per cent of the problems relate to environmental issues, 60-65 per cent under the PMG radar are coal-fired thermal power projects mostly awaiting coal linkages.

Set up in June 2013 to clear bottlenecks for stalled mega projects with an investment size of Rs 1,000 crore (Rs 10 billion) and above, the PMG had so far cleared 165 projects worth Rs 5.5 lakh crore (Rs 5.5 trillion) while about 230 projects involving an investment of Rs 11 lakh crore (Rs 11 trillion) are under processing, according to Swarup.

The PMG had already put in place a paperless complaining system for projects referred to by respective companies.

Clearances that are pending would also be issued online once the new initiatives come into operation.

Swarup said the main issue with stalled power projects was the implementation of fuel supply agreements.

Fuel supply agreements were signed with projects with a capacity of 72,000 Mw of the 78,000 Mw capacity approved for clearances by the previous government, according to him.

Since 50 per cent of the problems of these stalled projects was in the purview of the state governments, the PMG was actively engaging them to launch a similar monitoring mechanism for those in the investment bracket of Rs 100 crore (Rs 1 billion) to Rs 1,000 crore (Rs 10 billion), he said.

AP is the 13th state to launch a similar online project monitoring portal so far.

Responding to questions on the Hyderabad metro rail project, Swarup stated the Telangana government had been proactively supporting the project and there were no issues as far as the project alignment was concerned.
The image is used for representational purpose only