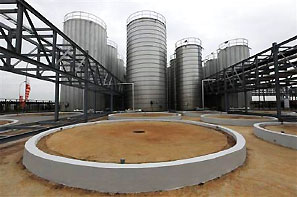 Oil marketing companies have sought a review of the petroleum and natural gas ministry's December 2012 order that they can't invest in fuel retail outlets.
Investment can only be by prospective dealers.

"In all major cities, OMCs are facing problems, as real estate prices are going up and the land owner does not want to renew the lease.

"If this diktat comes in place, it will multiply our problems," said a senior official from Hindustan Petroleum Corporation Limited. The ministry directive said last December saying: "Henceforth, OMCs will not invest in opening of new retail outlets and the investment is to be made by prospective dealers only.

"OMCs may specify suitable standard of service/safety of retail outlets and operationalise this through a suitable retail outlet scheme."

The order has not been implemented because of the opposition by OMCs.

The ministry is deliberating on the issue.

"We are awaiting clarity on this. We have, for the past year, not advertised for setting up of new retail outlets," the HPCL official quoted above added.

Depending on the location and land value, OMCs, , which are owned by the government, spend anywhere between Rs 15 lakh (Rs 1.5 million) and Rs 1 crore (Rs 10 million) to set up a fuel retail outlet.

According to OMCs, this directive would make company-owned, dealer-operated and company-owned and company-operated arrangements difficult.

So far, investments were made by both the company and the dealer.

The industry fears the amended norms may result in the company losing market share.

"The government's idea is that it will help OMCs limit their investments in retail outlets and result in savings.

"It may, however, put petroleum retail marketing under pressure," said a senior official from Bharat Petroleum Corporation Limited.

Petroleum dealers are, however, supporting the government move.

"This directive, if it comes in place, would be good for the industry, as it would bring only genuine players in the market," said Ajay Bansal, secretary of the Federation of All India Petrol Dealers.

Bansal added that in many cases, dealers take up dealership to prop up land value and decide to exit at a later stage.

OMCs prefer to have site control and, therefore, take a lease themselves.

This helps them take over the outlet if anything happens in future.

However, with the new rule where the ownership would rest with the dealer, the company might not have any representation if the outlet shuts.

"The dealer can overnight terminate the dealership and we can lose the market in that area," said an official with Indian Oil Corporation.

For instance, OMCs are already facing a tough situation in Mumbai where many landowners do not want to renew the lease agreement after their term expires and want to move on to a more lucrative option of using the land. In Mumbai alone, the OMCs have lost 35 sites.

In the next three to five years, leases would expire resulting in the loss of around 70 sites.

At present, HPCL is the largest fuel retailer in Mumbai followed by BPCL and Indian Oil Corporation.

"If not checked, in the next five years in Mumbai, total number for petrol pumps would come down to 156 from the present 227," added the HPCL official.

According to Indian Oil Corporation, India's largest fuel retailer, about 60 fuel retail outlets in the four metros are on the verge of closing down because the landlords don't want to renew their lease agreements.

In Maharashtra, the oil industry had tenancy protection till 1999.

However, Maharashtra Rent Control Act 1999 resulted in removal of tenancy protection for oil industry.

Subsequently, numerous eviction suits were filed by landlords which resulted in decrees by the courts for surrender of the sites.

This is one reason why BPCL is looking at rural areas to expand its retail network.

"We are more focusing on the rural markets and plan to set up around 1,200 outlets this year in total," added the BPCL official.

Last year, BPCL had set up around 1,000 retail outlets.