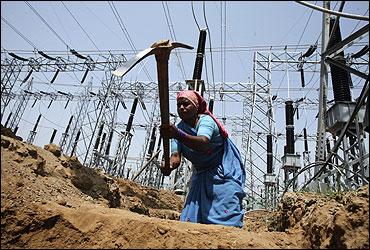 The Centre's efforts to get stalled projects going have seen Odisha, Karnataka and Jharkhand having the highest number of unresolved issues for the industry.
These states are, however, also the ones that top the list of some 441 projects that have been put up to the Central government for facilitating speedier clearances.
According to government officials, most of the unresolved issues pertain to environment and forest.
"Since forest clearances come in different stages, they are treated as unresolved till the final one comes," said a senior official.
The Union government had already digitised forest clearances last month.
From September 1, environment clearances would also be digitised followed by mine clearances from November 1 this year.
The list of projects accepted for consideration by the Project Monitoring Group (PMG), working under the Cabinet Secretariat, has some Rs 22 lakh crore (Rs 22 trillion) worth projects, of which 38 per cent (worth Rs 9,28,621 crore or Rs 9.28 trillion)) are in the power sector.
Another large chunk of projects worth Rs 73,289 crore (Rs 732.89 billion) is in the coal sector.
Some 74 projects from Odisha and another 51 projects from Chhattisgarh have lined up before the PMG.
Third in the list is Jharkhand with 39 projects followed by Andhra Pradesh and Madhya Pradesh.
Officials said the number of projects coming for resolution has not gone down in the last few months ever since the new government came into power.
"This is bound to happen since more and more promoters are coming forward and opting for PMG route of clearance.
Once the resolution of issues happens, the number of projects will come down," said an official.
Some 14 states and a Union territory have adopted the Centre's portal model for project clearances.
This is being done to bring in more efficiency and transparency in clearances. Rajasthan, Punjab and Telangana would also launch similar portals.
In fact, the Department of Industrial Policy Promotion is preparing a national protocol for standardising the portal formats across states.
Under a mechanism created by PMG, a project developer goes to the portal and fills in the details while indicating the "sponsoring ministry".
A joint secretary in this ministry, under whose administrative control that project falls, accepts the project.
This usually takes one week after which the PMG accepts the project and issues raised by the developer go to the recipient ministries through separate mailers for their comment.
After acceptance by the sponsoring ministry, the project is taken up at a meeting of a sub-group.
Sponsoring ministry is the line ministry while recipient ministry is a euphemism used for the one sitting on clearances.
PMG has representation from 18 ministries; there are 12 sub-groups, with a representative of the project developer and joint secretaries in the sponsoring and recipient ministries as its member.