President Barack Obama cited Indian-American entrepreneur Geetha Vallabhaneni's case to push for a comprehensive immigration reform while speaking at the Betty Ann Ong Recreation Center in San Francisco.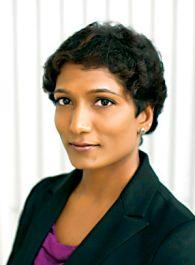 Vallabhaneni, founder and chief executive officer, Luminix, had to wait for 12 years before getting a Green Card.

Obama said she was the embodiment of the American dream as "she came to this land to seek opportunities they cannot get elsewhere."

"We're training our own competition, rather than invite those incredibly talented young people, like Geetha, to stay here and start businesses and create jobs here," he added.

In her introduction speech Vallabhaneni said there was a time when she wanted to say goodbye to her dying grandfather but could not for fear of losing her visa status and her American dream along with it.

She came to America on a student visa to earn a master's in computer science, then worked at Sun Micro system and just three years ago received a Green Card.

Vallabhaneni started her company in 2010.

"I started my company within 10
months of getting a Green Card. If I had received it earlier this could probably be my third company," she said. "You cannot start a business under an H1-B visa. Also, if you are on an H1-B and you are an employee for somebody else, it is a completely different status."
Vallabhaneni, a member of the Silicon Valley Leadership Group in San Jose, said the organisation supported initiatives to help entrepreneurs get Green Cards easily.
"The system is broken. We need to fix it. When you are educating people here in the US, you are taking the brightest minds from all over the world and training them here. But if you don't provide the opportunity to them to spread their wings and contribute to the economy, they will go back. I sincerely hope Congress passes the immigration reform this year," she told
India Abroad
.
"One of the issues I am passionate about is immigration reform because all of us who have been through this, (know) it's not an easy path."
Image
: Geetha Vallabhaneni