State-run NTPC on Wednesday said it has signed a loan agreement worth $250 million with State Bank of India and Japan-based Mizuho Corporate Bank for financing its expansion plans.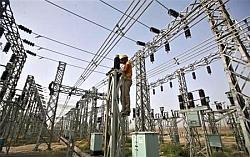 "NTPC has signed a term-loan agreement for $250 million (approximately Rs 1,327 crore) with the New York branch of State Bank of India and Singapore branch of Mizuho Corporate Bank as lead arrangers and lenders," the company informed the stock exchanges on Wednesday.

The loan agreement was signed on January 29, last week.

"The proceeds of the loan shall be utilised towards capital expenditure for procurement of goods and services for the ongoing and new projects and renovation of stations of the company," it said.

The loan carries a floating rate of interest linked to LIBOR and has a door-to-door maturity of seven years.

LIBOR is short for London interbank offered rate, the rate of interest that top-quality banks charge each other for loans.

It is often used by banks as a base for calculating the interest rate they charge on other loans. LIBOR is a floating rate, changing all the time.

Meanwhile, the company's offer for sale opens tomorrow is expected to garner Rs 12,000 crore (Rs 120 billion).

The government plans to sell over 78.32 crore shares, or 9.5 per cent, stake in NTPC through offer for sale (OFS)
route.
It currently holds 84.50 per cent in the country's biggest generation utility.
The government had last month appointed Citigroup, SBI Capital Market and Morgan Stanley merchant bankers for managing NTPC stake sale.
Department of Disinvestment has recently completed 10 per cent stake sale in Oil India through the auction route, raising over Rs 3,141 crore (Rs 31.41 billion). The government has raised over Rs 10,000 crore (Rs 100 billion) though PSU stake sale so far this fiscal.
Besides Oil India, the government has raised Rs 6,000 crore (Rs 60 billion) from stake sale in NMDC, Rs 800 crore (Rs 8 billion) from Hindustan Copper and Rs 125 crore (Rs 1.25 billion) from NBCC (National Buildings Construction Corporation).
It is hopeful of meeting its target of mopping up Rs 30,000 crore (Rs 300 billion) through disinvestment in PSUs this fiscal.
Shares of NTPC were trading at Rs 152.95, down 1.70 per cent on the Bombay Stock Exchange.