Asserting that the level of bad loans is not alarming, Governor Raghuram Rajan on Wednesday said the Reserve Bank of India has come out with a discussion paper on stressed asset management to prevent any further threat to the system and revive units that have the potential to generate revenue.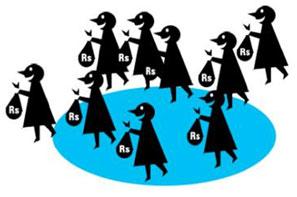 "The level of NPAs (non-performing assets) and restructured loans is not alarming at this point in time, but it is something we want to take action on quickly before it gets to the point that it is alarming," Rajan told reporters a day after the RBI came out with a discussion paper on NPA management for banks.
He said some accounts can be revived by rescheduling loans, which the RBI envisages to do once the norms get finalised after the public discussion.
"In the long-run, some of the bad assets can produce revenues once they get the clearances. We need to put them back on track and so the sequence of objectives is to put the bad assets back on track, get recovery for banks and be fair to entrepreneurs who have taken risks," he said.
Such arrangements will also help sagging growth as assets start delivering, he said at a media briefing after the Mid-Quarter Monetary Policy Review, which left all key rates unchanged.
The mid-quarter review was started by Rajan's predecessor, D Subbarao, who never briefed the media on such occasions. Rajan had a press briefing at his first mid-quarter review, which came a fortnight after he took over.
Projects worth over Rs 17 trillion are stuck for want of clearances or are at various stages of development. Some of these projects have even attained financial closure or have already availed of bank funds.
Asked whether the RBI believes in the private data on NPAs and whether the central bank has any different set of numbers, Rajan answered in the negative.