ICICI Bank, India's largest private sector bank, announced the launch of 'Pockets by ICICI Bank', a Facebook app that enables customers to carry out a slew of banking services on the social media site.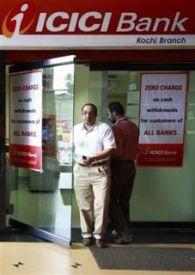 The Facebook app can be accessed across the and customers can bank while they are on the social networking website.

Speaking on the occasion, Chanda Kochhar, MD & CEO, ICICI Bank said: "'Pockets by ICICI Bank' will enable the young consumers, who spend a lot of time on Facebook, to carry out a wide set of transactions without having to leave the social media site."

Facebook has 82 million users across India and 40 per cent of them are below the age of 30 years.

Last year the bank had introduced 'Your Bank' Facebook app that enabled customers to view their savings account details and statements while on Facebook, as well as to order a cheque book and upgrade debit card.

The features of new apps include:

Split 'n' share: It allows customers to split and track group expenses and share them with friends on Facebook. The app also gives the customer the option of sending messages to remind friends on pending payments.

Pay a friend: It allows customers
to transfer funds to their friends without knowing their bank account details like account number, bank branch, branch IFSC code etc. Through this facility, customers can create electronic coupons that can be redeemed by their friends on
www.icicibank.com
.
Recharge prepaid mobile
: 'Pockets by ICICI Bank' lets customers recharge their prepaid mobile instantly, from Facebook itself.
Book movie tickets
: Users can now plan for their favourite movie with their Facebook friends and instantly book the tickets using 'Pockets by ICICI Bank'.
A customer can also carry out a wide range of non-financial transactions through this app. The list includes viewing a summary as well as a mini statement of savings bank account, knowing credit card details and getting demat holding statements.
Through this app, a customer can open fixed or recurring deposit, order a cheque book, stop a cheque payment and upgrade debit card.
A customer can access the app by logging in with his/her Facebook user ID, then going to the official ICICI Bank Facebook page (
www.facebook.com/icicibank
) and clicking on the tab 'Pockets by ICICI Bank'.
He or she needs to register for the application by entering his/her existing debit card number along with PIN number.