'We need to see how quickly the industry comes out of the impact of the note ban.'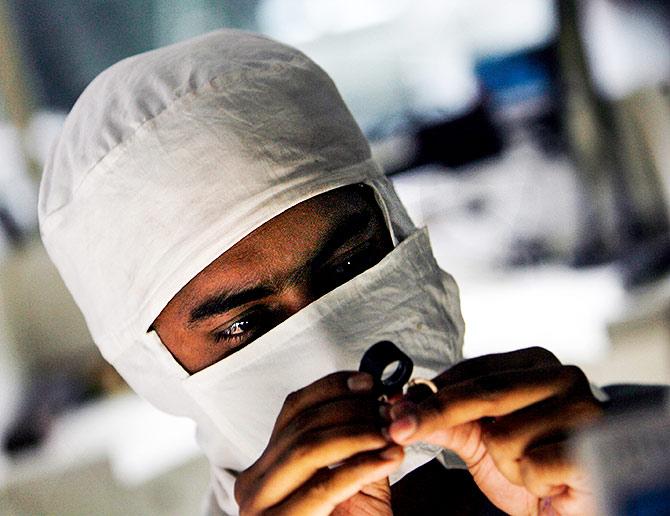 IMAGE: 'We see the diamond demand improving. We forecast an increase in production in 2017 in the range of 31 to 33 million carats,' says Nimesh Patel of De Beers. Photograph: Arko Datta/Reuters
De Beers, the world's top diamond-mining group, now 85 per cent owned by Anglo American, has seen a significant improvement in business revenues and profits in 2016.
Soon after announcing the De Beers group's results, Nimesh Patel, De Beers' group chief financial officer, who is of Indian origin, spoke to Rajesh Bhayani about the prospects for 2017:
Despite a fall in prices and production, sales and profits have seen significant improvements. Is it because the previous year's inventories were sold in 2016?
What are the prospects for 2017?
The company in 2016 reduced production by five per cent to 27.3 million carats.
Rough diamond prices have decreased 10 per cent, on average, to $187 a carat.
The average rough price index has fallen 13 per cent.
The company's revenues went up 30 per cent to $6.1 billion, driven by an increase of 36 per cent in rough diamond sales to $5.6 billion.
But inventories came down by $300 million. Although 2017 began with lower inventories than in 2015, they are normal.
You must note that the company's management has significantly upped spending on advertising and cut costs, which have helped improve profits.
With rough diamond prices having fallen in 2016 and India's demand likely to remain uncertain after demonetisation, do you see these impacting realisations?
Can sales growth be maintained?
As of now, we see the diamond demand, based on US market projections, improving and, to meet the rising demand, we need to up production.
We forecast an increase in production in 2017 in the range of 31 to 33 million carats.
I must also tell you that we will spend $120 million on advertisement.
However, rough diamond prices depend on polished diamond prices, and that will also tell impact consumer demand.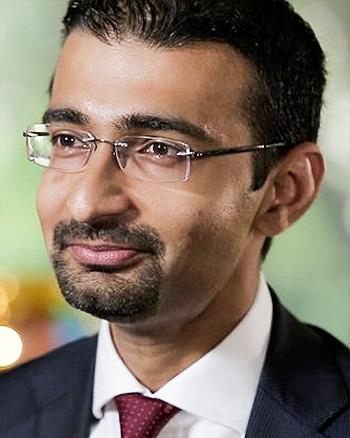 IMAGE: Nimesh Patel, chief financial officer, De Beers. Photograph: Kind courtesy @DeBeersGroup/Twitter
Which are the three main factors that will impact demand and revenues in 2017?
The demand in India was impacted in 2016 first by a month-long strike by jewellers in March last year.
And then demonetisation.
We need to see how quickly the industry comes out of the impact of the note ban.
The strengthening US dollar is another major factor that has to be seen.
However, 45 per cent of the diamond demand is from the US, which is improving.
The policies of the Trump administration are another factor worth tracking.
Most commentators see China growing at 6.5 per cent in 2017, and that is another factor to be watched.
Will De Beers be interested in exploring diamonds if the Indian government auctions diamond reserves?
We are open to exploring India if the right opportunity comes up.
Indian commodity exchanges have proposed to launch diamond derivatives. What is your view?
We would like to see diamond derivatives succeeding. They are helpful for the industry.
Rough diamond trading is not simple because they differ in value, grades, etc, and hence generating large volumes will be challenging.