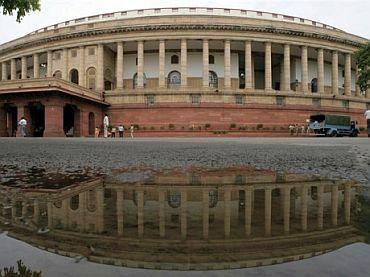 To rope in more allies ahead of the general elections, the United Progressive Alliance government might redefine the criteria for allocation of funds under the Backward Region Grant Fund and increase the number of eligible districts from 250 to 365, sources said.

According to a senior Planning Commission official, according to the new criteria evolved by members Abhijit Sen and Mihir Shah, henceforth BRGF amounts will be allocated on the basis of backward blocks and not just districts.

The blocks will be determined on the basis of a host of criteria such as the population of scheduled castes and scheduled tribes and not only production and consumption indicators.

"A formal Cabinet note based on the new formula for identification of backward blocks and districts will be prepared by the Ministry of Panchayati Raj, which monitors BRGF, based on the recommendations of the high-powered committee of the Commission," the official said.

He added that BRGF's restructuring is done according to the mandate given by state governments in the National Development Council meeting.

Finance Minister P Chidambaram in his last year's
Budget speech had also suggested inclusion of criteria such as per capita income, literacy and other human development indicators to determine backwardness and not only terrain, density of population and length of international borders.
He allocated Rs 11,500 crore (Rs 115 billion) for BRGF in Budget 2013-14.
Officials said that while no state could lose funds under BRGF, new states could be included under the scheme.
"We also feel that the corpus of funds for BRGF will have to expanded to include more districts but that will happen only from FY15," the officials added.
According to the high-powered committee's recommendations, of the 365 districts identified in the country as backward, all the blocks of 222 districts have been covered, while some of the remaining 143 have been included.
"There might be some states which do not have a single backward district but some blocks in those states may be backward, which will get extra funding," the official said.
BRGF was started around 2005 to redress regional imbalances in development.
The fund is provided to bridge critical gaps in local infrastructure and other development requirements, which are not being adequately met through existing fund inflows.