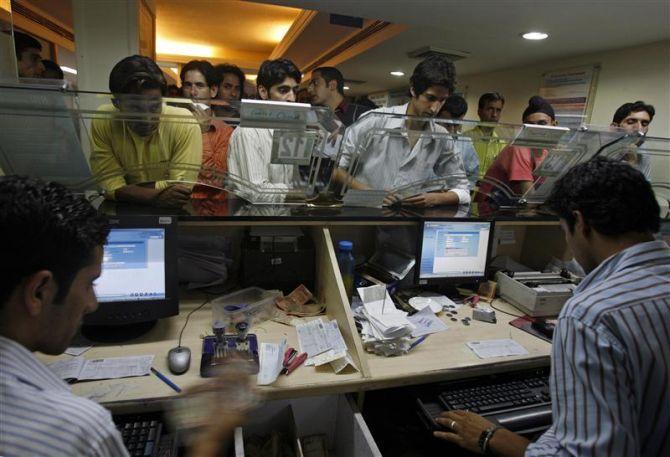 The government today said there is no proposal to dilute its ownership in public sector banks (PSBs) below 50 per cent.
"Major bank trade unions have protested against the implementation of the recommendations of the (P J Nayak) Committee including dilution of government ownership. There is no proposal with the government to dilute its ownership in PSBs below 50 per cent," Minister of State for Finance Nirmala Sitharaman said in a written reply in the Rajya Sabha.
Nayak Committee in its report submitted to the Reserve Bank had recommended reduction of government stake in PSBs to less than 51 per cent.
Please click here for the Complete Coverage of Budget 2014 -15
She said, other suggestions of the panel include elimination of dual control over PSBs, upgradation of the quality of board deliberation and setting-up of the Bank Investment Company (BIC).
In response to another question, Sitharaman said gross NPA of the public sector banks increased by 39 per cent to Rs 2,16,739 crore (Rs 2.16 trillion) at the end of March 2014 from Rs 1,55,890 crore (Rs 1.55 trillion) a year ago.
At the same time, private sector banks witnessed 13.6 per cent rise in gross NPA to Rs 22,708 crore (Rs 227.08 billion) at the end of March 2014 from Rs 19,986 crore (Rs 199.86 billion) a year ago.
The Financial Stability Report (FSR) of June 2014 had noted that the level of gross NPA as percentage of total gross advances for the entire banking system declined to 4 per cent in March 2014 from 4.2 per cent in September 2013, she said.
"This improvement in asset quality was due to the lower slippages of standard advances to non-performing advances and a seasonal pattern of higher recovery and write-offs that generally take place during the last quarter of the financial year," she said quoting FSR.
Please click here for the Complete Coverage of Budget 2014 -15