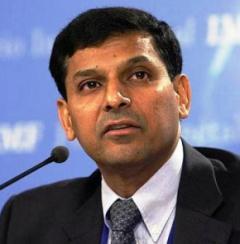 Even as rupee fell below 56-level against dollar on Thursday a top adviser to finance ministry said there is no need to panic, and RBI takes decisions on whether to intervene in forex markets or not to stabilise the local currency.

"We are not the worst, but we are also not the best either in terms of depreciation. . .I won't say it is out of sync with what is happening in other countries. . .

"There is no panic-based need for new measures (on rupee). . .I don't see any reason for apprehension," Chief Economic Adviser in the Finance Ministry Raghuram Rajan told reporters in New Delhi.

He said euro has also depreciated against the dollar and so is Japanese yen.

The rupee on Thursday fell below 56-level against dollar during intra-day amid the US currency's sustained gains against major rivals overseas.

Rajan said the Reserve Bank of India takes decision on market intervention with regard to rupee movement.

"I think in terms of decision how much to buy, those decisions RBI takes. . .I think a stable ruppee is something that is justified," he said.
Referring to the current account deficit, he said India got $5 billion FII investment in May alone.

". . .so we are able to finance CAD quite comfortably. In that sense new measures increase our ability to get better financing, we keep looking at it," Rajan said, adding more steps were being contemplated to further ease foreign inflows.

He informed that government was talking to foreign pension funds and sovereign wealth funds and listening to their concerns on investments.

The government has recently rationalised withholding norms on foreign investments.

Rajan said government would do everything to maintain stable and sustainable financing of CAD.

He further said the government would consider increasing the limit for foreign investments in government securities once they reach the ceiling of $25 billion.
Image: India's Chief Economic Adviser Raghuram Rajan | Photograph: Tim Chong/Reuters