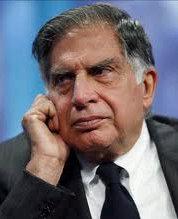 Names such as the Tatas, Birlas and Reliance have failed to make it to global brand valuation firm Interbrand's hallowed Global 100 list, which is an annual ranking of the best brands in the world.
This comes at a time when most homegrown companies have been venturing abroad, making acquisitions and organically growing their businesses.
Interbrand rival Brand Finance, which also releases an annual list of the best brands in the world, has already inducted Indian companies into its list.
But Graham Hales, chief executive officer, Interbrand London, argues that the methodology used
by the two brand valuation firms are totally different.
"We look at the financial performance of the branded product or service. The role the brand plays in influencing consumer choice and the strength the brand has to command a premium price or secure earnings for the company," he says.
Hales says that Indian companies while getting there still have some work to do in terms of creating a familiarity in markets outside India.
"Groups such as the Tatas have made some significant acquisitions abroad, but it does not necessarily tie up with the core brand name. That's why they don't figure in the Top 100 list," he says.