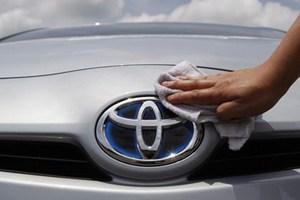 A NASA investigation has found no electronic flaws that accounted for unintended high-speed acceleration in Toyota vehicles.
"Toyota's problems were mechanical, not electrical. And that comes after one of the most exhaustive, thorough and intensive research efforts ever taken," Transportation Secretary Ray Lahood told reporters after the release of the NASA investigation.
NASA investigation was carried out at the request of the Department of Transportation after Toyota recalled about eight million US cars last year.
"There is no electronic-based cause for unintended high-speed acceleration in Toyota's," said Lahood.
In conducting their report, NASA engineers evaluated the electronic circuitry in Toyota vehicles and analysed more than 280,000 lines of software code for any potential flaws that could initiate an unintended acceleration incident.
"NASA found no evidence that a malfunction in electronics caused large unintended accelerations," said Michael Kirsch, Principal Engineer, NASA Engineering and Safety Centre.
In 2009 and 2010, Toyota recalled nearly eight million vehicles as part of the sticky pedal and pedal entrapment recalls.
Toyota also paid $48.8 million in civil penalties as the result of NHTSA investigations into the timeliness of several safety recalls last year. Across the industry, automakers voluntarily initiated a record number of safety recalls in 2010.
"There are safety features designed into the system to guard against large, unintended acceleration from failures.
"Multiple independent safety features include detecting failures and initiating safe modes, such as limp-home modes and fuel-cut strategies. There were no electrical failures in the electronic throttle control that impacted the braking system," said Kirsch.
"However, pumping the brakes at full throttle will cause loss of vacuum boost assist, and this effect would be seen if you had an entrapped pedal.
And this mode is not unique to Toyota vehicles.
There were no failures found in the software that would unilaterally cause unintended acceleration, and there were no credible vulnerabilities identified from electromagnetic interference testing that would cause unintended acceleration," he added.
Ron Medford, deputy administrator, National Highway Traffic Safety Administration, said the vast majority of the unintended acceleration complaints in Toyota vehicles involved incidents where the vehicle was stationary or travelling at low speed and the driver claimed that the vehicle suddenly accelerated and the brakes didn't work.
"We found when the complaint alleged that the brakes didn't work or that the incident began when the driver stepped on the brake, what mostly likely happened was pedal misapplication.
The driver stepped on the gas rather than the brake or in addition to the brake," said Medford.