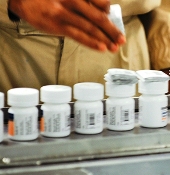 Unmindful of the Supreme Court's criticism against the Centre's 'dilly-dallying' on fixing the prices of essential medicines, the government has accepted the industry's demand to extend the deadline for implementing the new prices by a month.

In a meeting with industry representatives in Mumbai on Wednesday, the government decided to allow companies an additional 30 days' time from July 29, when the first deadline ended, to liquidate existing stocks of essential medicines from the market and replace them with newly-priced medicines, official sources said.

"However, the extension will be valid only for 151 medicines, which were part of the first notification by National Pharmaceutical Pricing Authority," the official clarified.

For the rest of the drugs, firms will have to stick to the 45-day time period to withdraw existing stocks and replace them with newly-priced medicines.

The meeting, chaired by Department of Pharma Secretary D S Kalha and NPPA Chairman C P Singh, was aimed at addressing the industry's concerns on the new Drug Price Control Order, 2013, notified by the government in May.

The move comes in the wake of several major drug makers approaching high courts challenging various provisions of the DPCO, which intends to regulate prices of 348 essential medicines or their 652 packs in line with the new drug pricing policy.

According to the law, companies are mandated to change prices of medicines within 45 days of NPPA's notification of new prices.

However, the industry argued the time is short for replacing the stocks as medicines are supplied even to remote areas.

"The reverse logistics of getting the old product packs back from the retailers or wholesalers to our warehouses, and replacing the same with products printed with revised prices is very time-consuming," a Sanofi spokesperson told Business Standard a few days ago.

Beside the extension, the government has also allowed an excise duty exemption on repackaging or re-labelling of such products, whose prices have to be revised.

Since the finance ministry's notification allowing the exemption was issued only on July 29, the 30-day extension will now help the industry to take its benefit and implement the new prices, the official source pointed out.