After relentlessly selling shares for most of 2013, India's equity mutual fund managers have turned buyers in the fag-end of the year.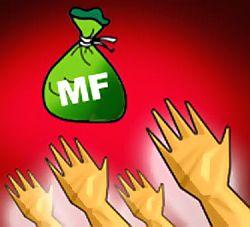 Since December 13, equity asset managers have net-bought shares worth Rs 940 crore (Rs 9.4 billion) on every single day. Before the renewed buying, funds were net sellers to the tune of Rs 1,490 crore (Rs 14.9 billion) from December 1.

So far in 2013, mutual funds have net-sold equities to the tune of Rs 21,000 crore (Rs 210 billion) because of sharp redemptions from equity schemes by retail investors.

With the Sensex hovering above the 20,000-mark, retail investors were encouraged to book profits in investments that were made three to four years ago.

Although the overall statistics for the month reveals that fund managers are still net sellers of equities (Rs 552 crore or 5.52 billion), the change of trend, if it continues unabated, may end the year on a positive note. In which case, December would be the second month in the past one-and-a-half year to witness net buying
by fund managers.
It was in August this year when mutual fund equity managers bought shares worth Rs 1,607 crore (Rs 16.07 billion).
Most of the fund managers Business Standard spoke to recently sounded optimistic about the surge in markets on the new year. According to them, the worst is behind and from here on, the direction of the markets will only be northward amid volatility.
In November, too, net selling by fund managers was less than Rs 500 crore (Rs 5 billion) - the second lowest in the past 18 months.
Since the markets hit their peaks before the Lehman crisis, equity fund managers have sold shares worth a whopping Rs 67,000 crore (Rs 670 billion).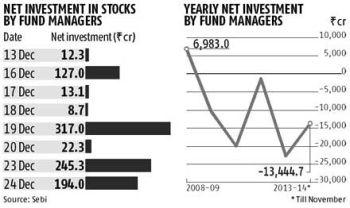 Investors' unabated redemption requests from equity schemes during the past few years forced fund managers to liquidate their holdings to honour the withdrawals.
During these years, industry lost well over 10 million equity investors' accounts - which came down from 41 million in 2009 to a little over 30 million till November this year.