It is good if the government and the RBI act in concert in times of crisis, D Subbarao said in his last speech as RBI governor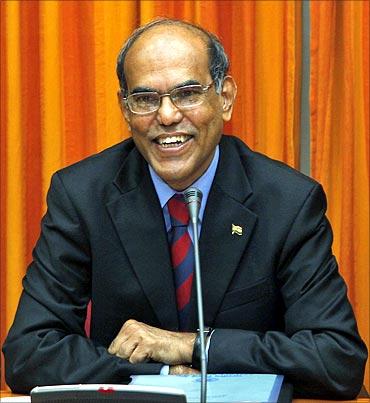 Reserve Bank of India Governor Duvvuri Subbarao, in probably his last public speech as governor (he steps down in less than a week), on Thursday said reducing the current account deficit was outside his domain, as RBI had very little policy space or instruments to deliver the needed structural solution.
"The government's loose fiscal stance in 2009-12 curbed Reserve Bank's policy stance. It is good if the government and the RBI act in concert in times of crisis," he said, adding that "the central bank arrangement hinges on the government respecting its autonomy".
He, however, emphasised that the central bank's policy was not to resort to capital controls, saying it was a must that it maintained focus on stabilising markets.
The Reserve Bank of India governor dwelt at length on the central bank's autonomy and said: "Gerard Schroeder, the former German Chancellor, once said 'I am often frustrated by the Bundesbank. But thank God, it exists.' I do hope Finance Minister Chidambaram will one day say, 'I am often frustrated by the Reserve Bank, so frustrated that I want to go for a walk, even if I have to walk alone. But thank God, the Reserve Bank exists'."
His reference was to the finance minister's comment after last October's monetary policy (when RBI maintained a status quo on rates) that he would walk alone on the path to growth.
Subbarao also took a dig at the government's comments that the foreign exchange markets were behaving irrationally, as the fall in rupee was sharp.
"We have been hearing in the past three months that markets are misbehaving. The problem is reverse. We are not understanding the behaviour of the market," he said, adding the policymakers should respond to the way the market was behaving.