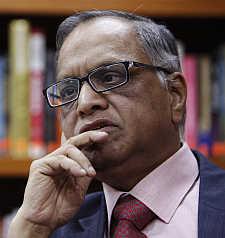 The work environment has definitely changed at Infosys after the return of NR Narayana Murthy, reports Vikash Nanjappa.
Infosys employees are a happy lot today. With the company posting positive Q2 results after the return of MR Narayana Murthy, the morale is high. There is a new lease of life and the same reflects right from top to bottom, Infy employees told Rediff.com.
"The work environment has definitely changed after the return of Murthy. Salaries were hiked eight per cent immediately after he came back and this was pleasant for all of us. At some level hopes were sagging and it had become a bit dull around here. Although there is a lot of work pressure, there is a great deal of enthusiasm as well. It is always nice to be part of a company that is doing well," said some employees who did not wish to be named.
"The return of Murthy was actually an unexpected one for all of us. We had no idea that he would be coming back. Most of us have been working here when he was around. We knew how it was to work when he was here. His return was actually a pleasant surprise for all of us. In fact we saw that excitement among those who joined when Murthy was not around.
"What the return of Murthy has done is send out a positive vibe among all the employees. This is mainly because a lot of us see him as an inspiration and a role model. Hence it is always good to see him around the campus.
"He does not come across as a typical boss. He is very down to earth and has no qualms in speaking with his employees, however senior or junior they are. When he does that it makes us happy and enthusiastic. His return and its benefits can be seen from the two results since his return. There has been an upward jump and this has also resulted in shares prices going up. This is what the return of one man can do.
"Let us face it, the company was not doing all that well after he left. He works around things differently and this has only given everyone the enthusiasm to perform better. He is the father of the Infosys family and hence his return was always going to do a whale of good.
"His return has boosted the morale of the employees. This has translated into good results. We hope that we get timely pay hikes and we know for a fact that Murthy will never allow an April 2013 to happen wherein the salaries of nearly a lakh employees was frozen when the rest of the companies were doling out major pay hikes. We are confident that would never happen with Murthy around.
"The manner in which he has handled the employees is excellent. He had a talk with all the junior employees and each one of us came out of that meet refreshed with a new resolve to strive hard for the company. He often joined us for lunch at the campus and this was yet again a morale booster. None of this ever happened when he was not around and each one was typically doing a nine to five job.
"The return of Murthy has also increased the number of job applications. It had fallen by nearly 40 per cent when he left. However, the number of applications has surged now since his return, which effectively rolled out a salary hike and better prospects of the company. Over all the mood is upbeat and today's results has only upped it further."