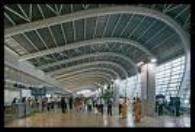 Mumbai will lead the Indian office space supply with more than 25 per cent share, followed by Bangalore and Delhi with 19 and 17 per cent, respectively, in 2011-2012, a real estate services firm said.
India added around 55-million sq ft of office space in 2010 and is expected to add around 50-million in 2011-12. Additionally, real estate transactions which were on the rise in 2010, will continue to increase in 2011 as well, the firm -- CB Richard Ellis (CBRE) India said.
"The overall real estate performance of the country has been on an upward trend with increasing transaction volumes. This is due to sustained IT industry activity, impact of economic recovery on new economy sectors, global optimism on corporate expansion, consumer confidence and a rise in income levels," CB Richard Ellis South Asia Chairman and Managing Director, Anshuman Magazine said.
"The residential segment might witness reduced absorption due to significant price increase in prime metro micro markets, large supply and an increase in mortgage rates," Magazine said.
In the retail segment the total number of malls in India are expected to be more than 200, while another 80-90 are lined-up to get operational in the next 2-years.
"Retailers will continue to hold sway in certain over-supplied locations, pressing developers for revenue share and related incentives," he said.
The Mumbai office market, which retained its position as the fourth most expensive office market in the world (as per its Bi-annual Global Office Rents report) in the last consecutive quarters of 2010, will continue to add additional supply, despite high vacancy rates.
"With approximately 47-million sq ft of stock, a substantial commercial supply of approximately 17-18-million sq ft is lined-up till mid-2012 in Mumbai," he said.
While the Central Business District (CBD) in Mumbai has witnessed a rental revival due to resurgent demand, the suburbs of the city continue to witness high vacancy pressures. However, capital values have witnessed an increasing trend over the past two-to-three quarters, although occupier focus remains on lease rather than buy, the firm said.
Magazine said that in 2011 rental revival can strengthen with the CBD and Bandra Kurla Complex (BKC) leading the trend, whereas the suburbs will lag behind in rental growth.
"Prices will witness an upward trend in commercial and retail rentals in the CBD (Central Business Districts) and prime city districts next year. The suburbs, however, will witness marginal appreciation or stability in prices," Magazine said.
Mumbai will continue to lead the country in retail accumulation along with Delhi and Bangalore which together account for more than 70 per cent of the supply.