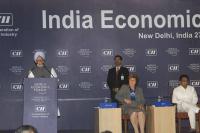 The Confederation of Indian Industry and the World Economic Forum will host their annual India Economic Summit 2011 in Mumbai instead of New Delhi on November 20 and 21.
The summit, will, in its 27th edition, for the first time, be held in Mumbai.
Under the theme, "Linking Leadership and Livelihood", this year's summit will focus on the critical governance reforms and innovative public private partnerships needed for India's rapid and inclusive growth.
Maharashtra Chief Minister Prithviraj Chavan welcomed the joint decision of CII and WEF to hold the summit in Mumbai.
He told
Business Standard
: "This is a flagship event. Maharashtra government will provide all facilities and extend full support for the success of the ensuing event."
A state government official said the decision to shift proposed meeting to Mumbai from New Delhi comes at a time when the Mumbai makeover plan is under implementation with a total investment of Rs. 60,000 crore (Rs. 600 billion).
CII Director General, Chandrajit Banerjee said: "CII and WEF started a journey more than 26 years ago. This partnership has helped to promote, position and project India globally.
"CII and WEF think it's an appropriate time to build on the enthusiasm of the key stakeholders and capitalise on the opportunity by positioning other centres to the world".
WEF said: "Coming to Mumbai is a reflection of the Forum's intent to show not only what the national government and central policies mean for regional growth, but to also demonstrate how the regions of India contribute to the success of the national agenda."