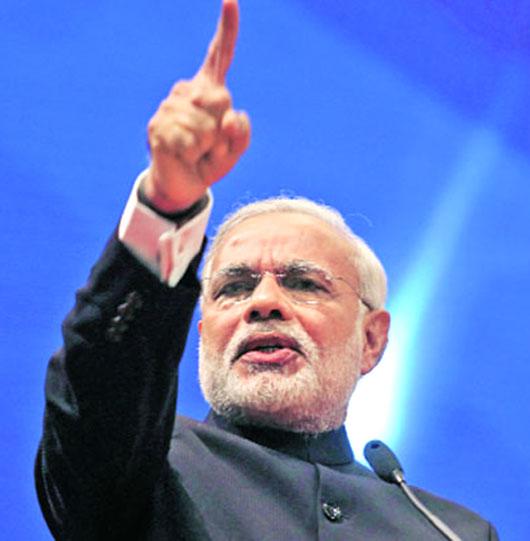 Prime Minister Narendra Modi's leash on foreign junkets of his ministers and bureaucrats seems to have trickled down to states as well.
The empowered committee (EC) of state finance ministers is heading for its shortest-ever foreign study tour of the Goods and Services Tax (GST), with the smallest-ever delegation.
Past tours have not helped in resolving the differences between Centre and states. The states are still haggling with the Union finance ministry over the same old issues.
The EC is set to embark upon its next trip to Beijing and Shanghai from September 23 to October 1.
"The EC has been asked to keep the delegation small and the duration short," a government official, who did not wish to be identified, told Business Standard.
The EC had earlier proposed a visit to Russia and China between August 20 and September 4, its seventh study tour. However, this was postponed and Russia taken off the itinerary as the Centre felt Vladimir Putin's country did not have much to offer for India's GST model.
The nine-day trip to China is the shortest study tour. EC's first such trip was in 2006 to the UK, Canada and Italy.
The first four trips were of 11 days each, followed by a 15-day tour to Canada and Japan in September 2012 and 12 days travel to South Africa in July 2013.
The coming tour is different from the previous ones in other aspects as well. It will be a 31-member delegation this time, with only the minister concerned going from each state.
Past delegations easily crossed 50, as ministers travelled along with their officers and sometimes with families, too.
As the Modi government is focusing on deliverables from foreign tours of Union ministers and bureaucrats, the EC might have to show the outcome of its China visit upon its return. The outcome of studies from the past tours was presented in EC meetings but it rarely helped in ironing out issues.
"Meetings have been fixed with key functionaries in China. They will make presentations on their model. But there are certain things like dual GST model or GST compensation where the views of the states are firm and no visit to any country would make any difference. The main thing states can learn from these visits is how GST is administered in other countries," said a state official requesting anonymity.
While each state makes its own expenditure on its delegates and the ministry of external affairs merely makes necessary arrangements for the visit, officials said that according to rough estimates the cost per head would be close to Rs 3 lakh.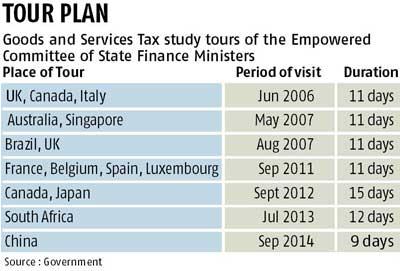 In earlier visits, even during times of austerity, the EC visited at least two countries and multiple cities but this time it's only two cities.
Against the earlier practice of sending state officials for study tour only when accompanied by their finance minister, this time the officials are allowed to travel if the minister opts out.

Ministers of some states such as Haryana, Maharashtra and Jharkhand will not be part of the delegation to China due to upcoming Assembly elections. Their request to postpone the trip to November was not accepted, as November is the onset of winter.

Officials said another reason for deferment of the trip - from August 20-September 4 to September 23-October 1, and omission of Russia from the itinerary, was that Indian embassies in these countries had some reservations about making travel arrangements for the delegation at that particular time.
A smaller EC delegation is a reflection of what Modi is trying to do at the Centre. During his first three foreign visits - Bhutan, Nepal and Japan - he carried smaller delegations compared with that in previous years. All previous foreign trips of the EC were made under the tenure of the United Progressive Alliance government.