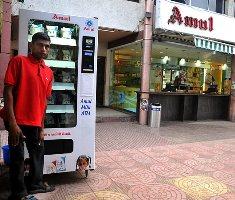 Here is another piece of good news on the inflation front.

Prices of milk and milk products will not go up in the next six months.

The Gujarat Co-operative Milk Marketing Federation Ltd, the country's largest dairy products distributor and the owner of Amul brand, has also indicated that prices of milk are likely to remain relatively stable in the next 24 to 48 months.

"There is definitely some cost pressure. But apart from minor tinkering, prices of milk and milk products are unlikely to go up in three to six months," GCMMF Managing Director R S Sodhi told Business Standard.

The price stabilisation follows a period of steep rise in prices of milk in the past one year.

The prices have gone up, on an average, 15-17 per cent in one year alone.

The increase used to be in the range of seven per cent a year earlier.

No wonder, prices of milk and milk products have been one of the major contributors of elevated levels of inflation in the country.

According to a report, on an average, from December 2009 to August 2013, the egg, meat, and fish group has recorded the highest inflation rate of 17.16 per cent, followed by milk (11.78 per cent), fruit and vegetables (10.84 per cent), foodgrain (9.11 per cent), condiments and spices (7.08 per cent), and tea and coffee (6.14 per cent): (EPW, October 19, 2013).


The likely price stabilisation might be attributed to steep rise in production of milk in Europe and New Zealand.
"Milk production is likely to go up by 30 per cent in Europe. And New Zealand, too, is likely to witness a similar increase in production," says Sodhi.
As a result, prices of milk products have started falling in the global market.
And domestic prices are higher than global prices, rendering exports unviable.
The country exported dairy products worth Rs 3,318.53 crore (Rs 33.18 billion) in 2013-14, according to the ministry of commerce and industry data.
With so much of export-bound dairy products available in the domestic market, prices of milk are likely to remain stable in the next few years. According to Sodhi, there is likely to be some respite from cost pressure too.
"The price paid to farmers has seen an increase of 22 per cent in the last two years. The pace is unlikely to continue in near future.
"I, therefore, expect that in the next one-two years, prices of milk will rise less than the rate of inflation," he adds.