"Satya Nadella is a perfect example of how appropriate, thoughtful immigration reform can benefit both our free-market democracies, says Ron Somers, president of the US-India Business Council.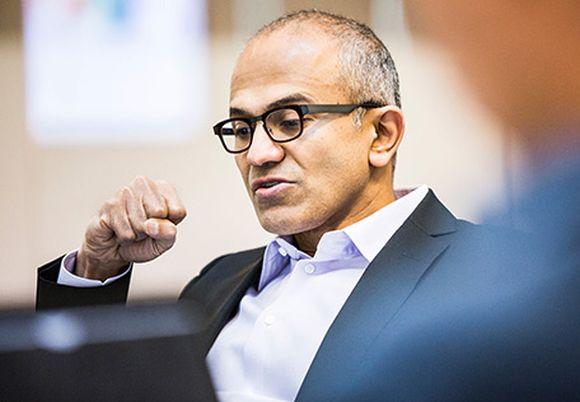 America Inc has expressed elation over the appointment of Hyderabad-born Satya Nadella, 46, as the new CEO of Microsoft. Ron Somers, president of the US-India Business Council has said his selection has been welcomed by its members.
Somers told rediff.com, "We have conveyed USIBC's heartiest congratulations. Microsoft is a long-standing member of USIBC and we look forward to a long and productive friendship with Satya."
He said, "The digital economy world is growing so fast, so swiftly, it makes perfect sense to invite an insider to take the helm of the company. He knows the heart of Microsoft, and he knows what the company is capable of, where the competition is, and what needs to be done to be successful."
Somers noted, "As an Indian American at this crucial time in US-India relations, we need more leaders who appreciate and respect both countries. We just witnessed our own State of the Union Message, by President Obama, and know that mid-term elections in the United States are due in November. India heads for the polls in April, which will be the largest democratic undertaking to take place in human history."
"More than 800 million people will cast their vote for India's next leadership. Having leadership of global companies who appreciate and respect the freedom inherent in our two democracies will facilitate greater collaboration and cooperation down the line," he argued.
Somers said, "Speaking from experience, having Ajay Banga (CEO of MasterCard) and Indra Nooyi (chairman and CEO of PepsiCo) as former chairs of USIBC brought a terrific perspective to this organisation – in our endeavour to advance U.S.-India commercial ties."
He added, "We wish Satya well. As he is in insider at Microsoft, we hope his elevation into this new leadership role will not be too disruptive, and will leave him enough mind-space to become more closely involved with USIBC."
Somers said, "We need his insight. We need people like him and Ajay Banga and Indra Nooyi and others who appreciate that it will be our businesses, but, more importantly, our two peoples, who will shape the destiny of the 21st Century."
He also asserted that "Satya Nadella is a perfect example of how appropriate, thoughtful immigration reform can benefit both our free-market democracies. We need more Satyas travelling to the United States, setting up home here, bringing their discipline and brain power to their profession, innovating, creating, discovering, building businesses and growing enterprise."
Somers said, " USIBC's Coalition for Jobs & Growth is pressing for a 'clean' , step by step approach to immigration reform that will enable more Satyas of the world to come the United States, and more Americans to travel and work in India, uniting our two dynamic economies."
"This dynamism, bound by a common entrepreneurial DNA, will help democracy and freedom and innovation to flourish for decades to come. That's the environment we hope to help create with a 'clean' and non discriminatory immigration bill."
Somers predicted, "With Satya at Microsoft's helm, we hope to enlist him in this cause as the US Congress sets its 2014 agenda to take up this important immigration debate."