No matter whether Indian stock markets remain range-bound or surge steeply, retail investors accessing equities through mutual funds seem to be missing no opportunity to exit their investments.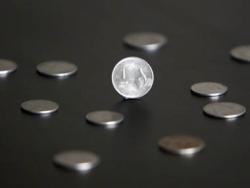 India's mutual fund industry has continued to see money going out of its equity segment for the fifth month in a row in October.

Though compared with the previous month - when the sector witnessed two-year high net outflows - it is relatively better. However, experts say the sector is still not out of the woods.

The equity segment, where contribution by retail investors is the highest, is unable to increase its gross sales. Instead, redemption continues to be high.

During the month when the country's benchmark indices traded more or less in a range-bound fashion and lost a little less than one-and-a-half-percentage points, investors continued to book profits and exit their investments.

According to the statistics available from the industry lobby, Association of Mutual Funds in India (Amfi), October witnessed a net outflow of Rs 1,984 crore (Rs 19.84 billion) from equity schemes, including the equity-linked saving schemes (ELSS).

Though the figures are still high, it was a relief for fund managers as in September when markets rose steeply, industry had seen outflows of a whopping Rs 3,559 crore (Rs 35.59 billion).

Karan Datta, national sales head at Axis Mutual Fund, says, "One can never say it's a good situation when outflows are Rs 2,000
crore. It's continuing to be a tough phase for the industry."
Gross sales in the equity category continued to remain poor and investors were making use of opportunities to book profits and move out, he added.
With the latest outflows, the current financial year so far has seen overall net outflow of Rs 9,258 crore (Rs 92.58 billion) from equities alone, which during the same period last year stood in the positive territory with net inflows of Rs 3,750 crore (Rs 37.5 billion).
Already over two million equity folios have been closed in the first half of the current financial year. Going forward, industry officials believe closures and redemptions will continue as the stock market surges.
"There are investors who had invested when the benchmark index was at 19,000-21,000 levels. This essentially means that they would make haste to get out of the markets once their losses are cut," explains the executive vice-president of a mid-sized fund house.
As on October 31, assets under management (AUM) in the equity category stood at Rs 1.83 lakh crore (Rs 1.83 trillion), making up around one-fourth of the industry's total AUM.
Apart from equities, balanced funds and other than gold exchange traded funds (ETFs) also saw money flowing out in October.
Segments, which saw positive traction, include income funds, money market schemes, gilt funds and gold ETFs, among others. Weakness in gold prices has brought renewed interest among investors for gold schemes.